EDIT MAIN
July - September 2017
July 17
Clayton Vaden of Lewis Architects shared a brief update of the working drawings (see below) for the high school addition at the school board meeting held July 17 in the Central Administration Board Room. In closing remarks to the board, Vaden said there was a lot going into the addition, but he tried to design the building as efficiently as possible. "This is a really nice sized addition, which will really improve the look of the high school campus."
The addition will include:
New cafeteria/dining with full service kitchen (will seat up to 750 people)
Media Center
Science lab
Art
High school administration office
Ninth grade classrooms
Special Ed classrooms
Robotics Lab
Family Consumer Science
Agri-shop
New gymnasium - large enough to host a state tournament (includes locker rooms, concessions, new parking)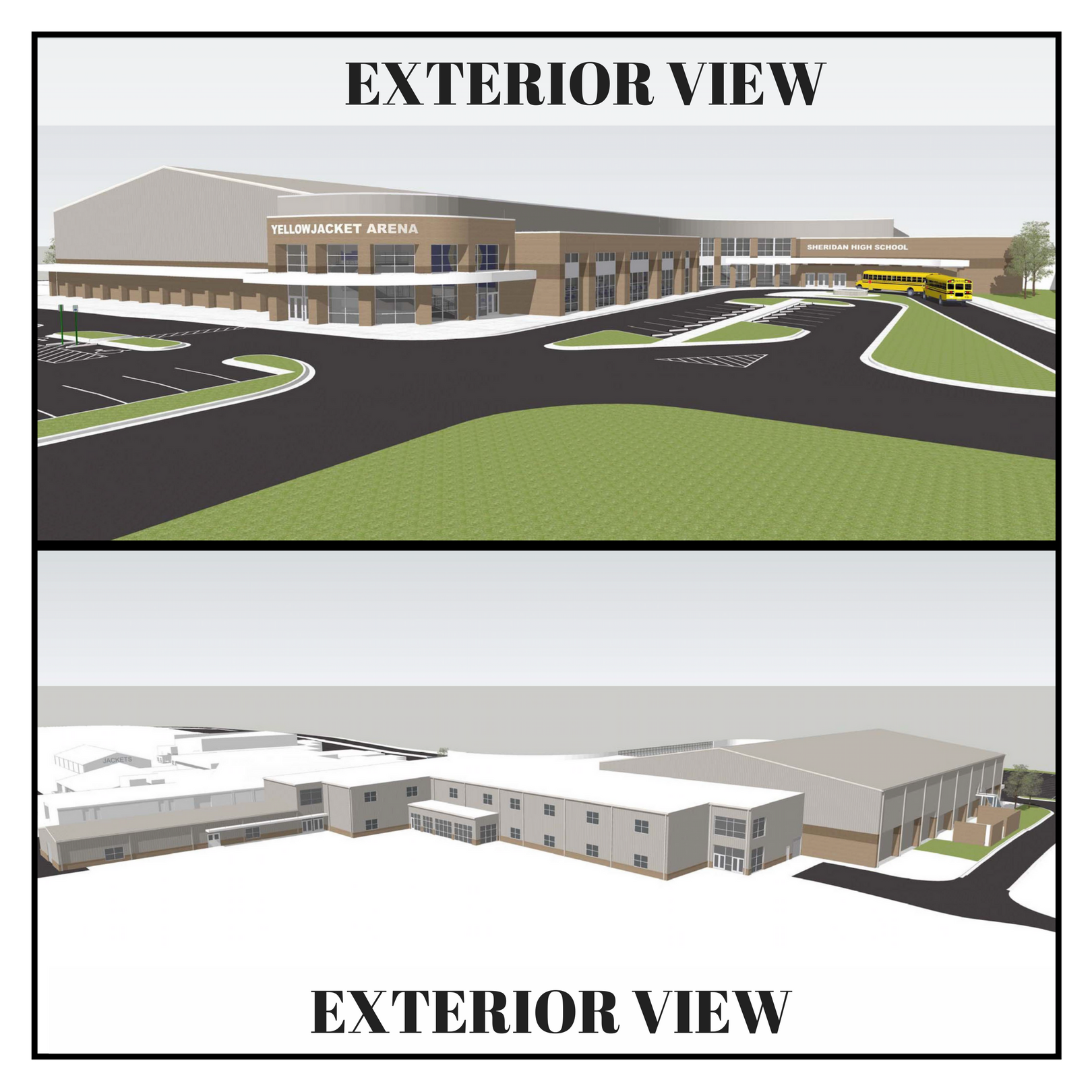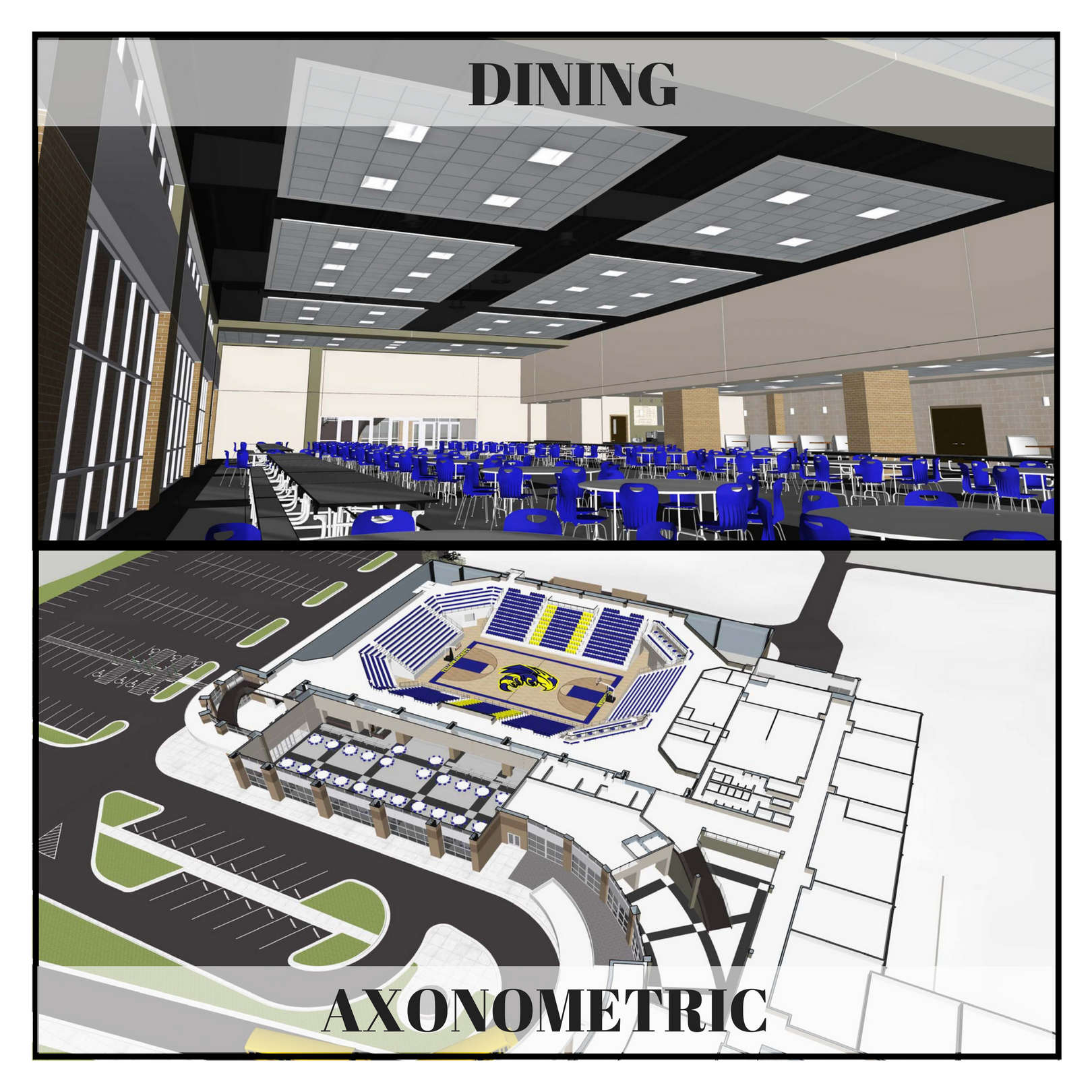 August 14
Clayton Vaden of Lewis Architects shared a brief update of the working drawings (see below) for the new East End Middle School at the school board meeting held Aug. 14 in the Central Administration Board Room. Click here for the EEMS floor plan.
August 30
The following editorial, written by Superintendent Jerrod Williams, was included in The Sheridan Headlight, issued Aug. 30, 2017. The editorial provides details about the progress of our facility projects.
Superintendent Addresses Summer Improvements
The 2018 school year is off and running. I would like to take this opportunity to thank everyone for their patience with the improvements made this summer at many of our campuses. We recognize that change is hard on a routine, but our students and staff are going to be safer with the finished products. Our teachers and building leaders appreciate the many positive comments that have been expressed to them over the last two weeks.
Upon examination, we think you will see the traffic flow at SIS and SES have made the surrounding neighborhoods more accessible in the event of an emergency and will provide extra parking for events at the campuses as well as events at the stadium. This area has already served as an alternative location for physical education activities when the playground is wet. Our new traffic arrangement is serving many needs for our district.
The safety and security upgrades at four campuses will be up and running after Labor Day. These will restrict access to visitors and will allow us to implement the background check system we have been piloting at SJHS and EEE for several years. This will enable our office staff to keep track of who is entering the building and keep your students safe.
The improvements to Yellowjacket Stadium that were part of the millage campaign are almost complete. These include the accessible seating on both sides of the stadium as well as a new ticket booth on the home side. A covered bandstand that is accessible will be ready by the first home football game as well. We have worked to address other items at the stadium as well as the campuses needing attention during construction with long-term fixes.
Even with all these improvements made to our facilities, the district continues to build its fiscal solvency while also adding to our employees salaries. We have paid cash for many purchases, that in years past, would have been purchased with short-term loans. We have also met the legal balance cap set forth by the 2017 legislature and will transfer the remaining funds to our building fund. This solvency is the result of operating more efficiently and utilizing best practices in staffing. Because of these efficiency efforts, we have added $3,000 to our base teacher salary schedule, and we have paid cash for the last eight bus purchases. Additionally, we have grown our fiscal balance by more than $4 million, which will ensure we have funds available for emergencies as well as smaller projects needing to be addressed when state funding is not available. Good stewardship of taxpayer dollars is a top priority at our school district, so we are very proud of these accomplishments.
The district is also looking at future plans and future needs with facilities. The improvements to specific campuses are made with a long-term plan for growth, replacement and maintenance.
We recently purchased land for a centralized warehouse. Though we had not planned on purchasing land for a warehouse any time soon, it became a necessity when the current rented warehouse was sold to Kohler. The site is large enough to accommodate future growth and future needs of our 6A district. Long-term the transportation depot (currently located beside the Alternative Learning Center) and centralized receiving can be moved to the site freeing up space for growth at the ALC and SHS campuses.
We are blessed to live in supportive communities. Our children, faculty and staff are encouraged daily by your support for their education, extracurricular activities and well-being!
Thank You YJ NATION!!