6th Grader Annslee Young Earns 3rd Place in University of Mississippi Poetry Contest
Lauren Goins
Friday, December 11, 2020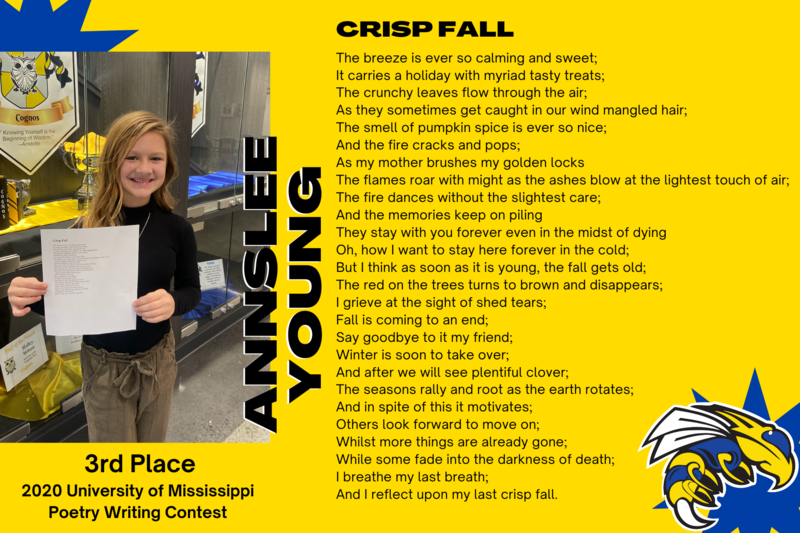 SMS 6th grader, Annslee Young, recently placed third in the poetry portion of the 2020 University of Mississippi Writing Contest. Her poem, "Crisp Fall," was selected from entries submitted by middle schoolers in Alabama, Arkansas, Tennessee, and Mississippi. In fact, Young was the only Arkansan selected to win in any of the writing categories which included poetry, essays, and short stories.
The contest, centered around the theme "A Celebration of Wonder," was originally open to 7th-12th graders and divided into a 7th-8th grade category and a 9th-12th grade category. When Young heard about the contest during a middle school GT enrichment session, she was eager to enter and asked GT Coordinator Summer Williams to contact the University of Mississippi to see if they would allow a 6th grader to compete. The university agreed to extend the grade requirement so that Young could participate. Her persistence definitely paid off when she was notified that she was a winner, having beaten students up to two years older than her.
Young and the other winners were recognized in a Zoom ceremony on Thursday, allowing her peers in her reading class the opportunity to tune in. The winners were invited to read their winning entries aloud in a celebration of their accomplishments.
When asked about her poem, Young said, "My inspiration is my love for fall -- everything is so peaceful and cozy. We start up the fires and everyone is getting ready for Christmas and Thanksgiving. Also, it's about events leading up to winter, which is my favorite season. Everyone is always happy and joyful. The air is chilly but not freezing, and it is the perfect time to go out and do things before winter arrives."
Be sure to congratulate Annslee Young on her achievement and take a moment to enjoy her winning poem!