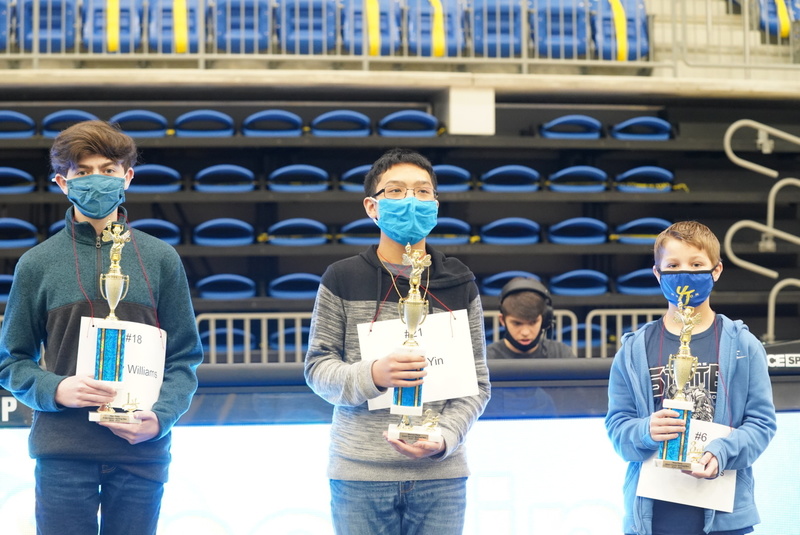 Twenty-four contestants from East End and Sheridan competed at the 2021 Grant County Spelling Bee on Thursday, January 28 at the Sheridan High School Yellowjacket Arena. Judges for the event were Gwynne Benfield (SIS), Sherri DeSoto (SIS), and Shannon Archer (SMS). Serving as pronouncer for the bee was Dennis Wolfe, Assistant Principal of East End Intermediate. The bee, organized by Sheridan's Gifted and Talented Coordinator, Summer Williams, was a qualifying event for the Arkansas State Spelling Bee to be held on Saturday, March 13, 2021 at the Vines 4-H Center in Little Rock.
The bee lasted six rounds, with Avery Williams, an 8th grader at Sheridan Middle School winning 1st place by spelling "subaltern" as his championship word. Kelvin Yin, 7th grader at Sheridan Middle School, won 2nd place and will serve as an alternate for the state competition. Jayden Harris, a 4th grader at East End Intermediate, won 3rd place.
In addition to the winners, students representing East End Intermediate campus were Maddy McClain, Allie Sharp, Cassidy Sproles, Chloe Akers, Tinley Burris, and Bristol Harris.
Students representing East End Middle were Tyner Burris, Carley Hancock, and Brenton Martin.
From Sheridan Intermediate, participants were Jack Courtney, Alivia Hunter, Gus Kinser, Kylee Allen, Madison Shirron, Tynlee Wilson, Abbi Barbre, Jaren Bowling, and Elizabeth Spruill.
Sheridan Middle was also represented by Madison Andrews, Lillian Baker, and John Pfenenger.
Photo: From left to right are Avery Williams (1st place), Kelvin Yin (2nd place) and Jayden Harris (3rd place).