SHS STUDENTS ATTEND LEADERSHIP CONFERENCE
Lauren Goins
Monday, October 02, 2017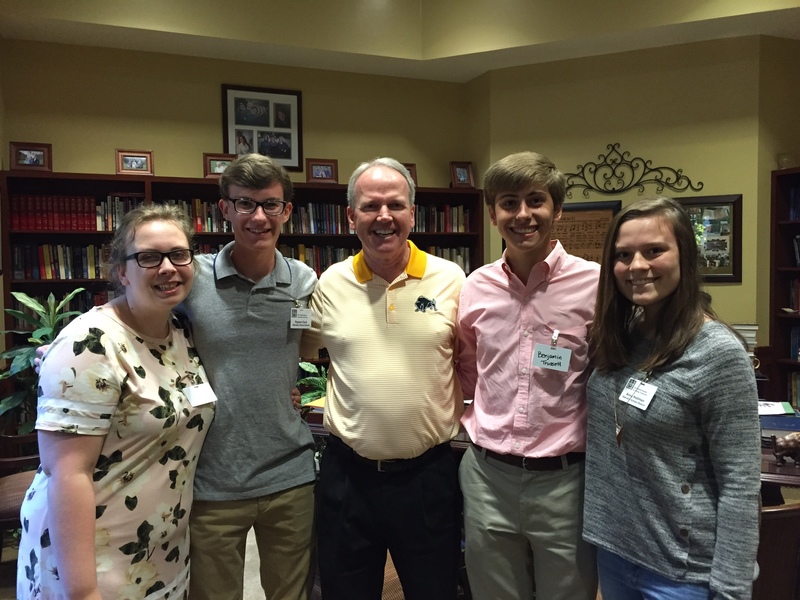 SHS STUDENTS ATTEND
LEADERSHIP CONFERENCE
On Friday, Sept. 29, four SHS students attended the 3rd annual Arkansas Association of Gifted Education Administrators Student Conference, hosted this year at Harding University in Searcy.
Pictured with Dr. Bruce McLarty, president of Harding are, from left: Sarah Rawls, Peyton Clark, Dr. McLarty, Benjamin Trussell and Anna Holiman.
Roy Wilson, Gifted and Talented / Advanced Placement Coordinator of the Sheridan School District and Region V, AAGEA board member, arranged for their attending the day's events: Bison Days tour, class visit of their choice, and keynote address by Dr. David Collins, VP for Student Life, Harding.
"The AAGEA added the student component to the annual AAGEA conference so that students from across Arkansas would have the opportunity to experience daily activities at a university," said Wilson. "Students benefited from the ability to sit in on a college class of their interest and get an understanding of what it would be like to be a college student within a year or two."
This year 105 students represented all regions of the state at the conference.