SHS Quiz Bowl Team Wins First Runner-Up Trophy at Tournament
Lauren Goins
Tuesday, November 15, 2016
On Thursday, Nov. 10, two teams of students from Sheridan High School competed against students from Watson Chapel, White Hall, and Stuttgart at the fall high school quiz bowl tournament at the Arkansas River Education Service Cooperative in Pine Bluff. Lisa Jolly, SHS teacher, is their coach. Roy Wilson, GT/AP coordinator, served as one of the moderators of this tournament.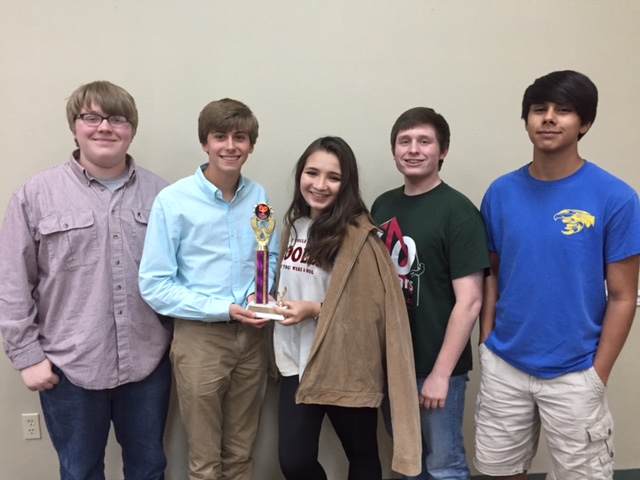 Team B won five of their six games and received the first runner-up trophy. Pictured from left are Caleb Red, Ben Trussell, Catherine Anderson, Grant Dawson, and Brendan Crutchfield. Although Watson Chapel received the top trophy, they were third in total scoring (1805) of the 6 matches, behind White Hall's 1860 points and Sheridan's 1830. Sheridan's only loss was by five points. White Hall placed second runner up.
Team A won three of their matches. Left to right are Anna Holiman, Sarah Rawls, Bay Fleming, Peyton Clark, and Nick Shannon.