Fifty Students Earn National Career Readiness Certificate
Lauren Goins
Monday, April 29, 2019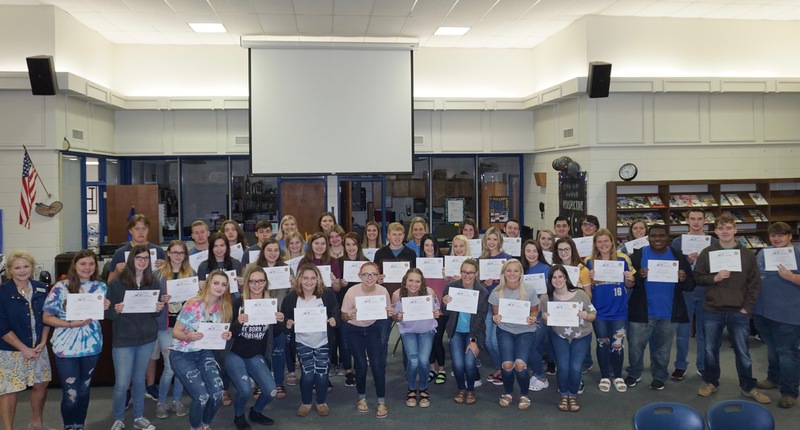 This school year, the Sheridan School District became a licensed site to proctor the ACT National Career Readiness Certificate. We are extremely proud of these 50 students who chose to take advantage of the opportunity to take the exam on the SHS campus and earn a certificate. Today, we celebrated this accomplishment and presented them with their certificates which are signed by Governor Asa Hutchinson.
The ACT NCRC is a portable, evidence-based credential that certifies an individual has the essential skills to be successful in most of today's jobs. Employers look for it from job candidates, whether they come directly from high school, work-based learning programs, or through postsecondary paths.
Alek Stinchfield
Kirk Gammel
Jasmine Graham
Katelyn Hobson
Destyne Lakey
Makayla Clayton
Jacob Davidson
Lainey Hill
Kynnedy Holzheimer
Maggie McGowen
Resa Messenger
Holley Monk
Joshua Spann
Anna Turner
Taylor Uptagrafft
Chase Brantley
Peyton Capps
Kendall Falcone
Molly Goodman
Taylor Goodson
Sarah Irons
Calena Hawley
Mackenzie Hughes
Brianna McElroy
Chris Moore
Rickey Pate
Sydney Plunkett
Hannah Riddle
Sarah Silliman
Trinity Stinnett
Delaney Vaughan
Lauren Yarberry
Nicholas Bridgeman
Jakhari Clegg
Cheyenne Crutchfield
Katlynn Edmondson
Alana Hale
Hunter Jester
Ashton Kerr
Kassi Martin
Zeke Lane
Casey Looney
Drake Maddox
Landon Nutt
Kaitlynn Pumphrey
Breanna Roberts
Brendon Shumate
Karlee Swihart
Sarah Tranthan
Justin Wood
Five students earned a platinum certificate, which is the highest level awarded by ACT!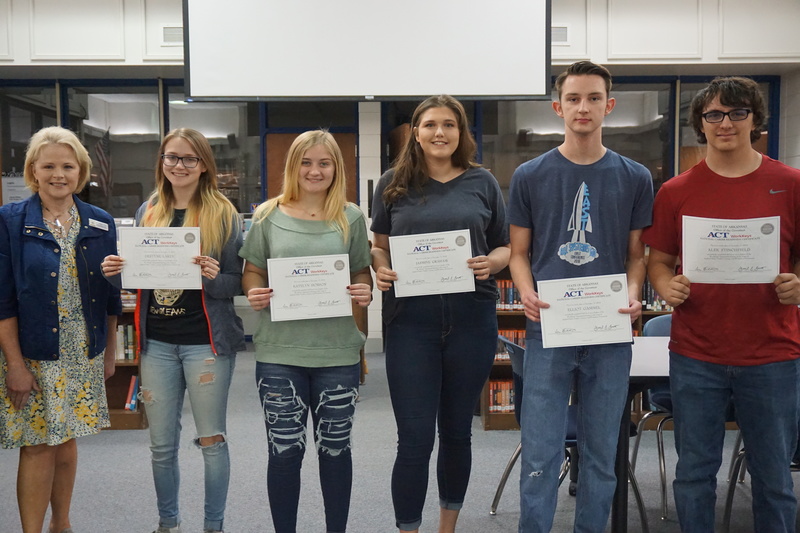 Form left are Dr. Bridget Polk, Destyne Lakey, Katelyn Hobson, Jasmine Graham, Elliot Gammel, and Alek Stinchfield.