SSD to Host Education Endowment Gala and Two Ribbon Cutting Ceremonies
Lauren Goins
Thursday, June 27, 2019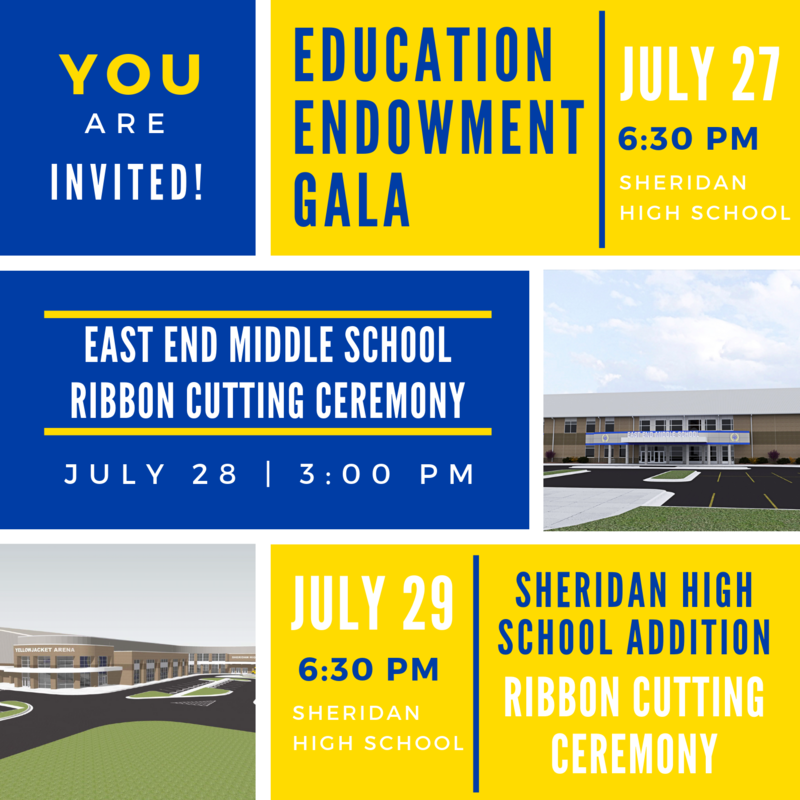 SSD to Host Education Endowment Gala and Two Ribbon Cutting Ceremonies
The Sheridan School District will celebrate the opening of the much-anticipated Sheridan High School addition and East End Middle School this July with its First Annual Education Endowment Gala and two ribbon cutting ceremonies.
The gala will be the first of the three events and will be held on Saturday, July 27 at Sheridan High School to launch the Sheridan School District Endowment.
"The gala will be a very special occasion," said Sheridan Superintendent Jerrod Williams. "All proceeds from the event will go to the Sheridan School District Endowment. The endowment fund will be used to provide scholarships for Sheridan High School graduates and other educational purposes of the Sheridan School District."
Guests will be taken on the first set of tours of the completed Sheridan High School addition, including the Yellowjacket Arena and Kohler Academy. Guests will also enjoy an elegant dinner and live music by the local band, Exit 123.
After the gala, the Sheridan School District will continue the excitement and festivities over the next two days with two ribbon cutting ceremonies: one for East End Middle School on July 28 and another for the Sheridan High School addition on July 29.
Details for all three events are listed below.
First Annual Education Endowment Gala
When: July 27 at 6:30 p.m.
Where: Sheridan High School, 700 West Vine Street in Sheridan
Admission: Tables of eight are available for purchase for $400 at the Sheridan School District Central Office. Make checks payable to Sheridan School District Endowment.
Contact: Gale Jones, 870-942-3135
Attire: Business Attire
East End Middle School Ribbon Cutting Ceremony
When: July 28 at 3 p.m.
Where: East End Middle School, 24554 Highway 167 in Hensley
Admission: Free to the Public
Sheridan High School Addition Ribbon Cutting Ceremony
When: July 29 at 6:30 p.m.
Where: Sheridan High School, 700 West Vine Street
Admission: Free to the Public