'Momma Sharon' Retires After 31 Years with the Sheridan School District
Lauren Goins
Wednesday, July 10, 2019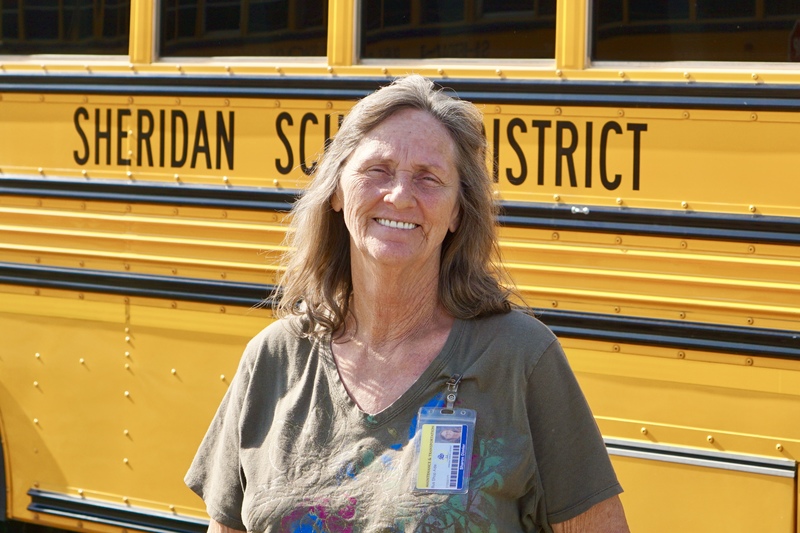 School Bus Driver Sharon Dimler, or "Momma Sharon" as she's called by fellow employees, has retired after 31 years with the Sheridan School District.
"Ms. Sharon has been one of the biggest assets that I have had in my time at the bus shop thus far. She is dedicated, trustworthy, honest, and overall just a very hard worker," said Casey Smith, Sheridan's fleet and shop supervisor. "She will be greatly missed."
Not only did Dimler pick up and drop off kids before and after school, but she also spent her time managing the bus shop. Fueling the buses, lining up the buses and running spur-of-the-moment shuttles were just a few of her duties.
With family ties to the small town of Sheridan, Dimler first started driving the bus for the district so she could drive her children and grandchildren. However, her idea of "family" grew after driving the same kids to and from school year after year. "These students are like my kids," said Dimler.
Dimler had students ride her bus from the time they were in Kindergarten all the way to 12th grade. Throughout her career, Dimler has enjoyed getting to see her bus riders grow up. She also says one of her favorite parts of the job is the time she's had with her coworkers. "We are one big happy family around here," said Dimler.
After three decades as a bus driver, "Momma Sharon" knows what it takes to be a great bus driver. She advises new bus drivers that patience is the key to a driver's success. She says that patience plus a love for kids makes the job both easier and more enjoyable.