Linda Lewis is Sheridan School District's Secondary Teacher of the Year
Lauren Goins
Monday, February 20, 2017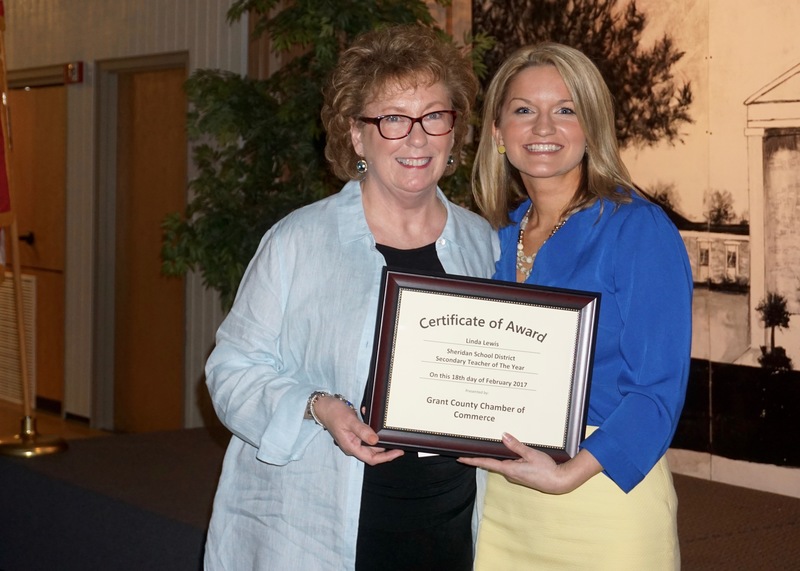 At the Grant County Chamber of Commerce (GCCC) Baquet held on Saturday, Feb. 18, Sheridan High School Special Education Teacher Linda Lewis (shown on left) was recognized as the Grant County Secondary Teacher of the Year. Lauren Goins (shown on right), SSD communications director and GCCC board member, presented the award.
Lewis holds a Bachelor of Arts degree in Elementary Education from Hendrix College and a Masters of Science in Education for Special Education from the University of Central Arkansas. Always eager to learn and grow as an educator, Lewis completed additional coursework at the University of Arkansas for Medical Sciences and at the University of Arkansas at Little Rock.
Lewis has 40 years of experience in education. Before teaching at the Sheridan School District, she served as a resource teacher for Conway Public Schools and taught emotionally disturbed students in the Little Rock Public Schools. For fifteen years, she served as Arkansas Department of Education Area Supervisor where she was instrumental in helping Arkansas schools develop Individualized Education Plans and modifications for students. Branching out of the high school arena, Lewis worked for five years at the University of Nebraska, teaching and supervising master's candidates in Special Education.
Lewis has been a member of the Sheridan High School Special Education Department for 14 years. Her dedication to her students and her abilities as a teacher are a source of inspiration for her colleagues. SHS Teacher Susan Coles, had this to say about the positive impact Lewis has on her students: "One might expect students with special needs to struggle on state exams; on the contrary, Linda's students have made steady growth. In fact, none of her students scored below basic the last time the test was administered. Any educator realizes that students achieve when they feel that their teachers believe in them, and Linda's students know without a doubt that she loves them and believes in them."
In her philosophy of teaching, Lewis wrote: "Having the opportunity to teach children who are truly challenged by learning is more fulfilling than anything I have done."
According to her principal, Rodney Williams, this passion for empowering students with special needs is evident to anyone who witnesses her teaching. "When you enter her classroom," he said, "you will instantly notice the warm, inviting atmosphere she has prepared for her students. Along with the inviting physical space, you will witness the rapport and respect she has established with each and every student who is fortunate enough to have her. Her students know they are loved and genuinely cared for when in her classroom."