Nelodie Perkins is Sheridan School District's Elementary Teacher of the Year
Lauren Goins
Monday, February 20, 2017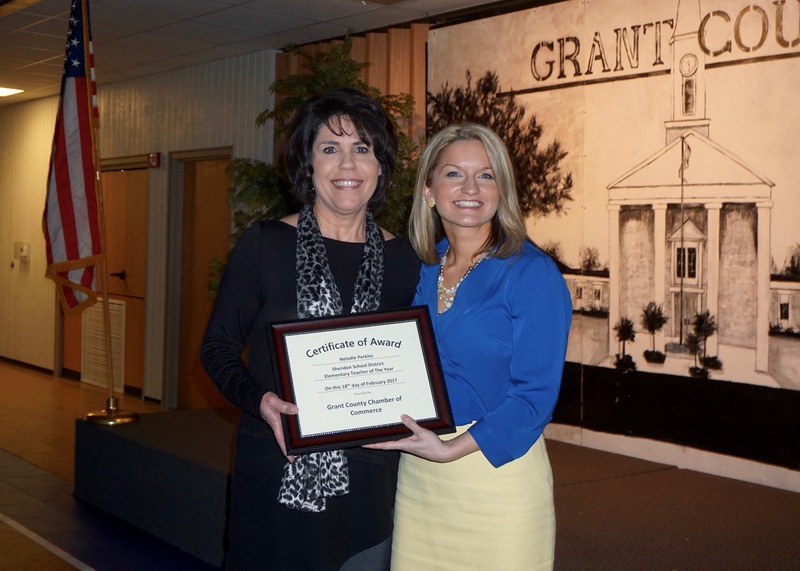 At the Grant County Chamber of Commerce (GCCC) Baquet held on Saturday, Feb. 18, Sheridan Intermediate School Teacher Nelodie Perkins (shown on left) was recognized as the Grant County Elementary Teacher of the Year. Lauren Goins (shown on right), SSD communications director and GCCC board member, presented the award.
Perkins graduated from Southern Arkansas University in 1986 with a Bachelors of Science in Education and has 30 years of experience in public education. She has been with the Sheridan School District for the last 23 years.
Perkins is not only an educator of students but also a mentor of teachers. Throughout her teaching career, Perkins has served as a math coach and has served on numerous curriculum committees and leadership teams. Her classroom is one of the first places the district takes new teachers, so they can observe her interacting with students.
Her fellow teachers describe her as inspiring and captivating. In her letter of support for Perkins, Instructional Specialist Becky McIver said, "She not only teaches her students academically but also takes an interest in their social and emotional well-being. She lets them know they were missed if absent and listens to their personal stories. She gives high-fives when students answer questions and gets excited when they tackle a hard problem. Nelodie is gifted at what she does. She finds different ways to reach all students to ensure their success. Nelodie is a true role model for everyone."
Her principal Annette Neely echoed these words of adoration. "Nelodie is the type of teacher that I would be honored to have as a teacher for my own grandchildren. She is very compassionate, kind and giving. She is extremely knowledgeable in her content area, and a role model at Sheridan Intermediate School."
In her philosophy of teaching, Mrs. Perkins wrote: "As I think back over my thirty years in public education, tears come to my eyes as I reflect on its many rewards. The ones that readily come to mind include the pleasure of seeing the light bulb come on when a child finally gets it. Also, is the joy that floods my heart when I find a hand-written note or picture on my desk, declaring I am the best teacher ever. Or like today, having a child that struggles to learn tell me that he has never liked math before, but now he loves it. Of course there is nothing sweeter than a hug or receiving a nice compliment, but I must say, the greatest reward is in knowing that I have made a difference in many children's lives and somehow touched the future."