A Super Slimy Story
Lauren Goins
Friday, December 18, 2015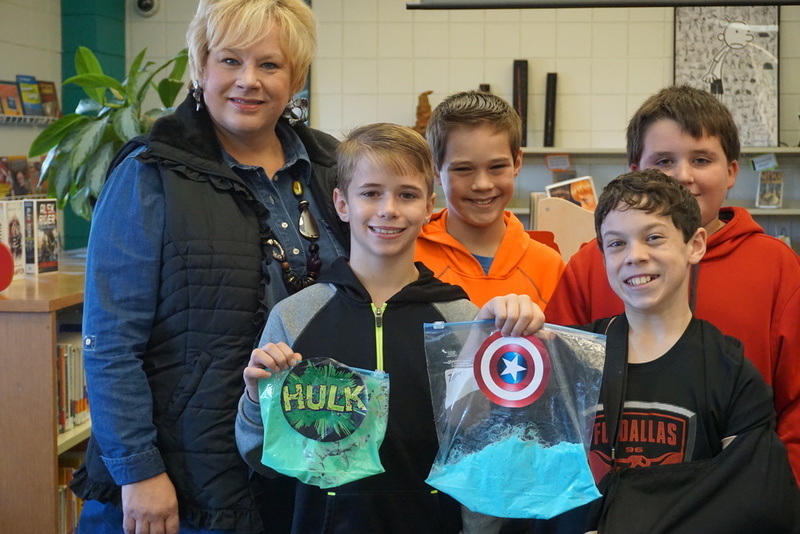 The Arkansas Economic Acceleration Foundation (AEAF) announced Dec. 16, 2015, that Zac Odom, Josh Handloser, Jackson Rogers and Grayson Allen, fifth graders at Sheridan Intermediate School, will advance to the final round of the 11th annual Youth Entrepreneur Showcase (Y.E.S.) for Arkansas Business Plan Competition.
"Their business plan placed in the top 25 out of 224 plans submitted by teams of fifth-eighth grade students from across the state," said Gifted and Talented Teacher Sherri Desoto. "Their business plan is to make and sell Super Slime as a superhero-themed toy that is affordable and fun for the kids at SIS."
The idea grew out of the students' common interests in creating cartoons and using their creativity to problem solve together. According to information provided in their business plan, Super Slime is made of moldable, nontoxic (but not edible) ingredients. Unlike other commercial slime products, the handmade Super Slime comes in four different colors that coordinate with the colors of The Hulk, Captain America, Spiderman and Batman.
The team will compete in the 2016 Y.E.S. for Arkansas Business Expo beginning at 10 a.m., Jan. 22, 2016, at Park Plaza Mall in Little Rock. The expo is open to the public. Each team and its teacher advisor will have a booth to showcase their business ideas and sell products to Park Plaza Mall patrons between 10 a.m. and 12 p.m.
AEAF will announce the winners in a 1:30 p.m. ceremony at Park Plaza Mall. Cash prizes, souvenir medals and a school trophy will be awarded to the top teams.