EEI Fifth-Graders Learn About the Stock Market Using New Technology
Lauren Goins
Friday, January 15, 2016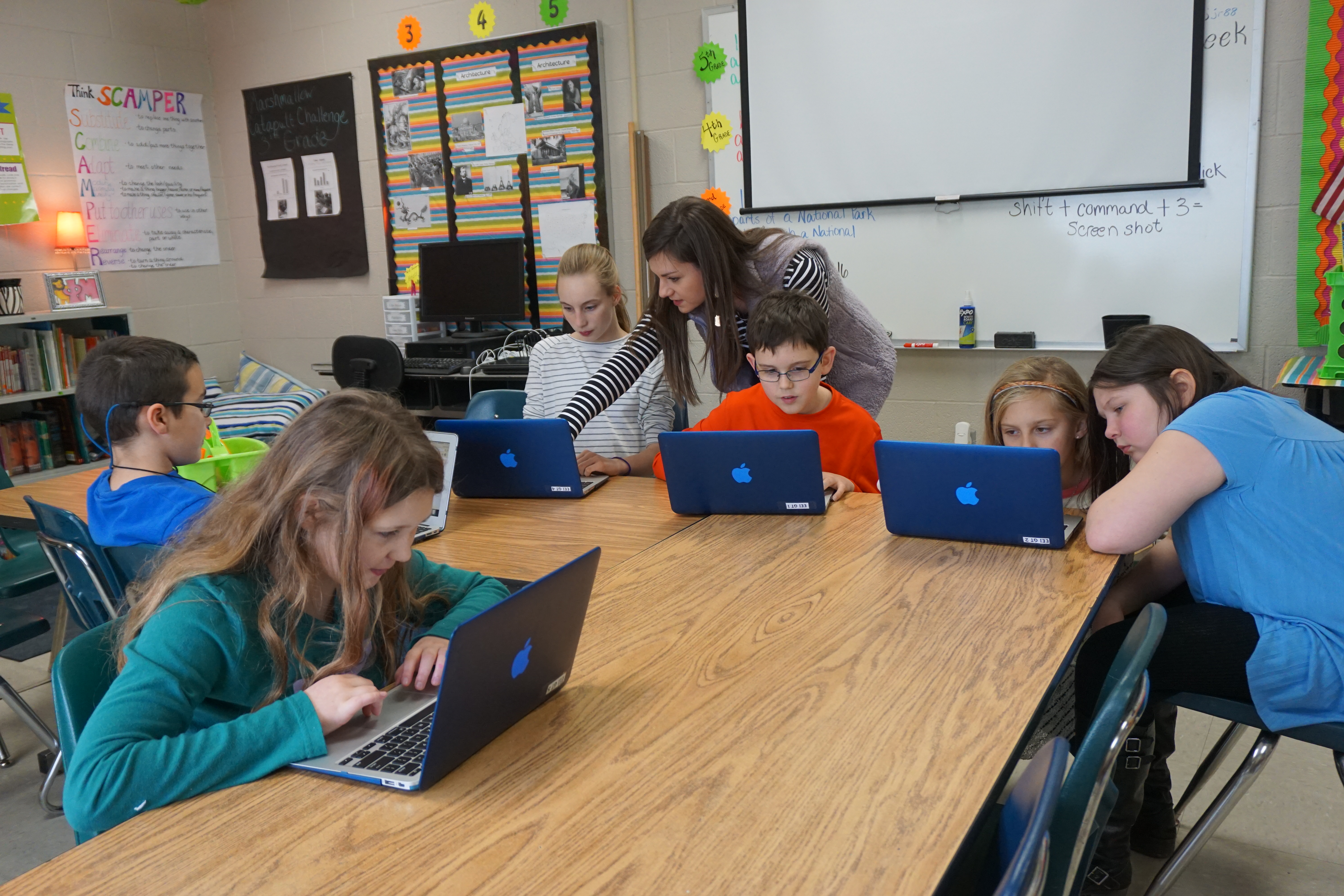 Fifth-grade students at East End Intermediate are having fun learning about new technology and the stock market with the school's new Apple Macbook Air laptops. The Macbooks—along with cases for the Macbooks and a projector adapter—were purchased with a $5,000 Investor Education Grant awarded to EEI from the Arkansas Securities Department.
The department recently awarded Investor Education Grants to 17 school districts and a non-profit organization for the purpose of providing education to students in grades 5 -12 about the securities industry, the stock market and investment decision-making.
"After learning about the grant at the REAL Economics For All conference last summer, I thought it would be a great opportunity to combine technology with investing and stock market education," said EEI Gifted and Talented Facilitator Jessica Brown.
"This is one great example of how our district's teachers are working to equip our students with the knowledge and skills they will need to compete in the 21st century job market," said Superintendent Jerrod Williams. "I am proud of Ms. Brown and her commitment to her students."
Students in EEI's Gifted and Talented program will use the Macbooks to research investing opportunities with various companies. They will research investing methods and monitor stock and commodity prices daily. As a result, the students will gain an understanding of smart money investing and the basics of how the market functions.
"Through this grant, students will not only have the opportunity to become familiar with different computer operating systems, but also will be able to create data charts in the Apple Numbers program to share what they've learned with all students at EEI," said Brown.
The goal of the fifth-grade Gifted and Talented class is for all EEI students to get exposure to the possibilities and importance of investing money for the future. The students plan to create presentations in the Apple Keynote program and project their presentations to their classroom wall through Apple TV. Additionally, the students will analyze the data and create charts that will be displayed in school hallways.
Picture Cutline: EEI Gifted and Talented Facilitator Jessica Brown is working with students Natalie Norwood, Jackson Dowler, Alyssa Keary, John Eckert, Grace Herndon, and Grace Dawson on their new Macbooks.