SSD Teacher Lynn Summit Recognized for Excellent Outcomes in her Alternative Education JAG Program
Lauren Goins
Monday, October 28, 2019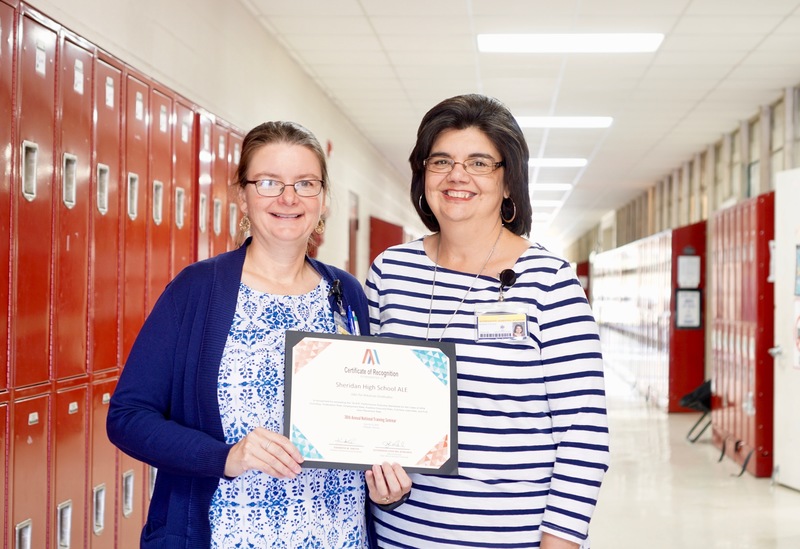 The Sheridan Board of Education honored Lynn Summit, a teacher at the Alternative Learning Academy, at the board's October meeting for her role in leading her JAG (Jobs for America's Graduates) students to success after high school.
Summit's JAG program was one of 44 JAG programs in the state to meet five out of five performance standards in 2019. There are a total of 128 JAG programs in the state, but what sets Summit's program apart from many of the other programs is that she serves "at-risk" students in the district's Alternative Learning Academy. In other words, Summit works with students who have significant barriers to success.
"Mrs. Summit has taught our JAG program since 2013," said Alternative Learning Academy Assistant Principal Dee Creed. "During this time, she has diligently prepared her students to pursue higher learning or enter the job market. Each year, she develops community service projects in which her students learn to become part of the community while giving back. I am proud to see Mrs. Summit recognized for her dedication to students."
In addition to being recognized by the Sheridan Board of Education, Summit received a Certificate of Recognition signed by Kenneth M. Smith, the president of the national JAG program.
However, Summit says she is not the one who should be celebrated. "Although I got the certificate, it is really my students' determination to overcome obstacles in their life that we are celebrating," said Summit.
In 2019, Summit's program did not just meet the performance standards; the program exceeded the standards. After a student exits the JAG program, the JAG specialist (teacher) is required to make contact with the student once a month to monitor his/her progress. For a JAG program to meet 5 out of 5 performance standards, 80 percent of these former students must have graduated from high school and must be employed, serving in the military, and/or pursuing postsecondary education. According to Summit, 100 percent of her 2019 JAG graduates met these criteria.
Photo: Lynn Summit (left) and Dee Creed (right)