2020 Grant County Spelling Bee Results
Lauren Goins
Friday, January 10, 2020
Sixty-two contestants from East End, Sheridan, and Poyen competed at the 2020 Grant County Spelling Bee on Friday, Jan. 10 at McKenzie Auditorium on the campus of Sheridan High School.
Chauseus Txaus Siab Vang, 5th grader at Sheridan's East End Intermediate campus, in round 25, defeated Lillian Grace Baker, 5th grader at Sheridan Intermediate School to earn the right to participate in the state bee. Lilly will serve as the alternate. John Mason Pfenenger, 7th grader at Sheridan Middle School finished third.
In addition to the top three, students representing Sheridan's East End Intermediate campus were: Annaliese Vogelpohl, Kyler Jarvis, Drew Estes, Quinn Ashley, Cole Strickland, Kody Rowe, Braylee Harris, Mykalyne Fults, Marley Beck, Michael Tollison, and Harrison Sredin.
Students from East End Middle School were: Blake Armer, Tyner Burris, Zach Chadouin, Braden Cooper, Rylee Hale, Jake Smith, Ricky Johnson, Devin Jones, Jackson Mitchell, Kylie Parnell, John Spann, and Nate Deckleman.
From Sheridan Intermediate, contestants were: Kaylynn Cogbill, Tynlee Wilson, Brantley Henry, Jaren Bowling, Gavin Jones, Cheyenne James, Max Wilson, Kelvin Yin, Haleigh Lawson, and Carson Clark.
Representing Sheridan Middle School were Avery Williams, Fallyn Mangrum, Aerin Campbell, Sam Cypert, Ian Goins, and Logan Harris.
Judges for the event were Gwynne Benefield and Heather Szeflinski of Sheridan, and Amy Thompson of Poyen. Serving as pronouncer at the bee was Roy Wilson, GT/AP Coordinator of the Sheridan Schools.
The bee was a qualifying event for the Arkansas State Spelling Bee to be held on Saturday, Feb.1, 2020 at Cabot, sponsored by the Electric Cooperatives of Arkansas.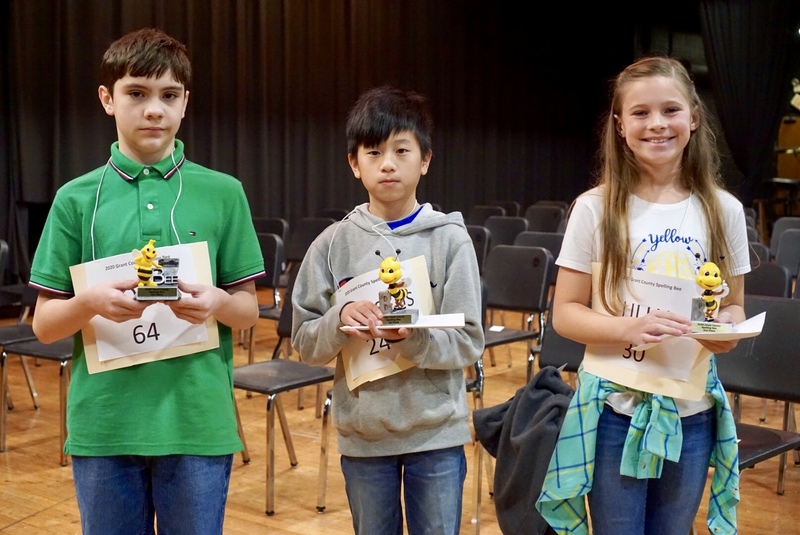 Photo Caption: 2020 Grant Spelling Bee winner Chauseus Vang, 5th grader at Sheridan's East End Intermediate School, defeated sixty-one students to become the Grant County Spelling Bee Champion for 2020. At left, is John Pfenenger, 7th grader at Sheridan Middle School who placed third, and at right is Lilly Baker, 5 th grader at Sheridan Intermediate who finished second and will serve as an alternate to the state bee.