Sheridan School District Introduces New Mascot
Lauren Goins
Thursday, February 20, 2020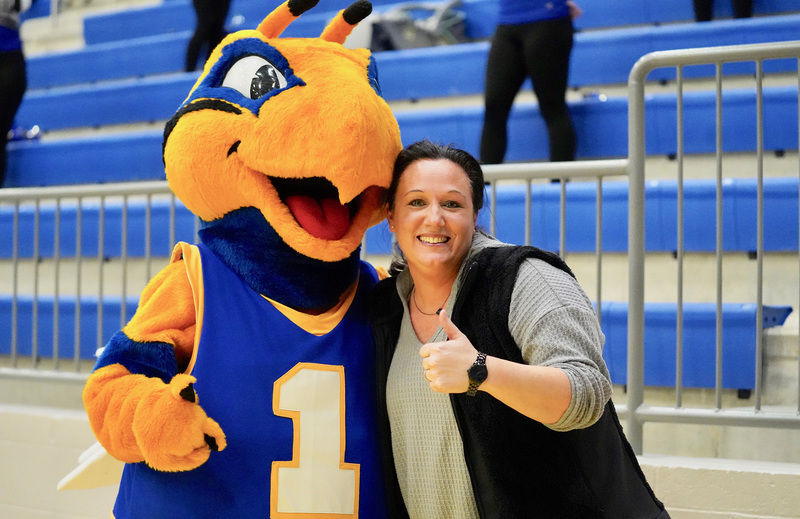 "Buzz Stingerton" as he is known, is the new mascot for the Sheridan Yellowjackets. Buzz, who is the first mascot for the Yellowjackets since the 1990s, will bring entertainment and school spirit to games and other district events throughout the year.
2019 graduate, Logan Ingram, came up with the name "Buzz Stingerton" during a conversation with his friends when someone posed the question, "If a Yellowjacket had to take a test or get a driver's license what would its full name be?"
"Our students have been wanting a new mascot for a long time," said Superintendent Jerrod Williams. "I am thrilled Buzz is finally here, and I am looking forward to the positive impact he will make at our various events. Buzz will serve as a great representative for the incredible school pride we have in the Yellowjacket Nation."
Rachel Smith, a 2017 graduate, says that she was excited to hear about Buzz because she remembers spending hours with her classmates brainstorming ways to get a mascot for the Sheridan School District. "After seeing how much change and growth the district has experienced in the last few years, I believe finally getting a mascot has been the perfect touch," she said. "I love seeing students and our community enjoying something that brings so much spirit to our schools!"
Jameson Archer, current vice president of Student Council, says she is excited about the mascot as well. "I have been a member of Student Voice for four years now and have heard the students say how much they wanted a mascot," said Archer. "I am thrilled because of all the goals that have been accomplished -- a state-of-the-art arena, a new high school, and now Buzz, our new mascot!"
Buzz made his debut between the Girls' and Boys' basketball games on Feb. 11. Buzz was welcomed onto the court with cheers and celebration as he brought the game ball to the referee just in time for the Boys' tip off. He spent the game cheering and dancing with the cheerleaders and posing for pictures with Yellowjacket fans, both young and old.
The custom, hand-crafted Buzz Stingerton suit has mainly gold-plush fur with blue accents as well as white wings and a white stinger. Buzz has a large, friendly, confident face and wears a Yellowjacket jersey and oversized sneakers. Buzz does not speak but communicates a great deal with his body language and general presence.
At this time, the district has not announced who is inside the Yellowjacket suit.
"Many have asked me who is inside the suit," said Superintendent Williams. "I tell them that is a secret that we will do our best to keep, as it adds to the excitement and character of Buzz. All I can say is we have an excellent student who will finish out the year inside the suit and will represent us well."
According to Williams, the high school will hold mascot try-outs at the same time as cheerleader try-outs for the upcoming school year, and the student who gets the part will go to mascot camp over the summer. "We've waited a long time for this," said Williams, "so we want to make sure our mascot provides the level of entertainment and spirit you would expect from a college mascot. Buzz Stingerton will play an important role at Yellowjacket events for years to come."