Press Release - Sheridan School District Honors Three National Merit Finalists
Lauren Goins
Friday, February 19, 2016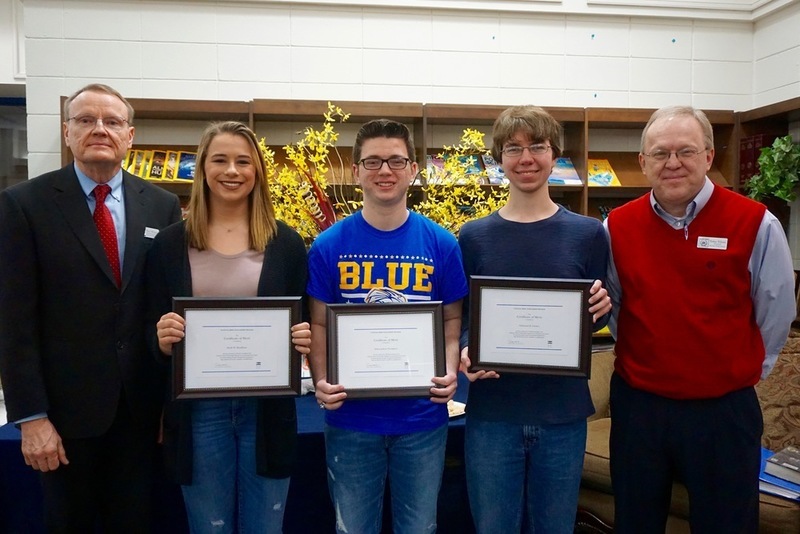 SHERIDAN, Ark. — Three seniors attending Sheridan High School have received certificates stating they are finalists in the National Merit Scholarship Program based in Evanston, Ill.
"It is a rare occurrence to have three National Merit Finalists within the same school year. I am honored to support these outstanding seniors and wish them well as they move forward into promising academic careers," said Roy Wilson, Sheridan Schools Gifted and Talented / Advanced Placement Coordinator.
Names of 16,000 semifinalists nationwide were announced last September based on excellent qualifying scores on the PSAT that students completed as juniors. About 90 percent of the announced semifinalists were granted finalist status. The selection of around 7,400 Merit Scholarship recipients from more than 15,000 finalists is now in progress. In March, the National Merit Scholarship program will mail scholarship offers to the next round of qualifying students.
Earning National Merit Finalist status in 2016 are: Sarah Handloser, daughter of Mick and Kim Handloser of Sheridan; Dylan Thompson, son of Jason and Dawn Thompson of Hensley; and Nathanael Grimes, son of Keith and Missy Grimes of Grapevine.
After high school, Handloser plans to attend Arkansas State University, where she received the A-State Scholar Award in the amount of $60,000. She wants to major in International Business and participate in the Honors program, and eventually attend law school.
Handloser said that achieving finalist status was one of the most exciting academic achievements she has had in high school. She added that it would not have happened without the encouragement she received from Wilson. "He is an excellent GT/AP Coordinator and has helped me in more ways than you could imagine."
Nathanael Grimes also plans to attend Arkansas State University, where he would like to major in history. After receiving a bachelor's degree, he plans to move on to graduate school. "In regards to my status as a National Merit Finalist, I can honestly say that it is the result of both hard work and the help of many truly amazing people over the years," said Grimes. "I am honored to have been able to come this far in the process and can only hope that I have the good fortune of receiving one of the scholarships offered."
Dylan Thompson is still researching colleges, but has narrowed down his search to Georgetown, Vanderbilt and the University of Arkansas. Like the other SHS finalists, he is excited about his future and grateful for the support he received growing up. "I wouldn't have been able to accomplish this without my parents raising me to care about my education and also having some amazing teachers at Sheridan High School."
Picture Caption: National Merit Finalist Honorees—On Tuesday, Feb. 16, three seniors from Sheridan High School received certificates citing their selection as National Merit Scholarship Finalists. From left are Roy Wilson, GT/AP Coordinator, Sarah Handloser, Dylan Thompson, Nathan Grimes, and Rodney Williams, Principal.