SSD to Host Parent Night on Aug. 31
Lauren Goins
Monday, August 28, 2017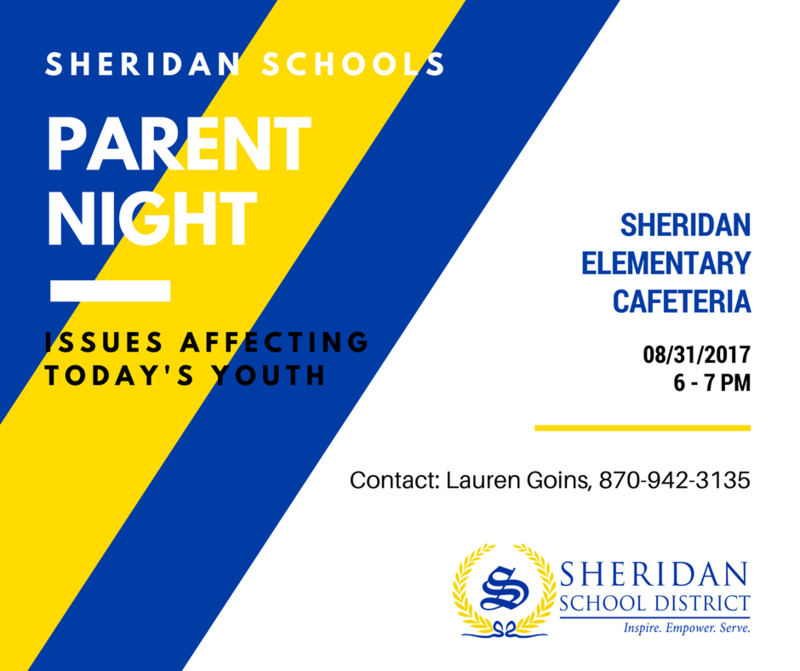 SSD to Host Parent Night on Aug. 31
Sheridan School District will host a special Parent Night Aug. 31, from 6 - 7 p.m., in the SES Cafeteria. We will have three presenters who will discuss critical social issues affecting today's youth:
Teen Suicide (including information about 13 Reasons Why Netflix Series)
Mental Health Coordinator Ryane Sorey
Sheridan School District
Drug and Alcohol Abuse
School Resource Officer Saundra McCool
Sheridan School District

Internet Safety
Events Coordinator and Community Educator
Office of Arkansas Attorney General
The meeting is intended for parents of teens and preteens, but all parents, as well as adults who serve as youth mentors, are welcome to attend. We will have childcare available for children Pre-K through 4th grade.
For more information, contact Lauren Goins at 870-942-3135.