Sheridan School District Wins Chartwells K12 Platinum Award
Lauren Goins
Thursday, December 14, 2017
Sheridan School District Wins Chartwells K12 Platinum Award
Chartwells K12, one of the nation's leading school foodservice partners, has recognized the school meal program at Sheridan School District as one of the top performing teams in the country with a Platinum Award for 2017. Among the top three percent of districts in the South Central region, Sheridan School District's chefs have elevated their menus and recipes to serve a variety of meals both students and staff enjoy every day. This has led to increased participation in the program – one of the largest in the region.
"The increased participation is a direct result of the passion and hard work of our dining services department," said Sheridan Superintendent Jerrod Williams. "I am proud of our team and grateful for our partnership with Chartwells. Together, they provide an excellent school meal program for our students."
Known for playing an active role in the community and bringing innovative programs to Sheridan School District, the team hosts monthly nutrition education events and tastings. From chef cooking demos during lunch to Farm to School events, students have the opportunity to learn about and taste new foods. A recent series of Farm to School events featured local Laughing Stock Farms' eggplant, cherry tomatoes, spring mix and baby ginger.
With Chartwells K12 as a partner, Sheridan School District is able to provide students with more than just a delicious and nutritious lunch; Sheridan schools deliver the education and motivation students need to live a healthy lifestyle in the cafeteria and beyond.
"For the past two years, Chartwells has been a proud partner of Sheridan School District," said James Paladenic, South Central Regional Vice President, Chartwells K12. "Our eat. learn. live. philosophy guides our team in delivering on each component of our promise, from great food to developing food and education, and focusing on the whole child through key partnerships that support students in and out of the cafe."
Beyond serving great food and leading nutrition education efforts, the district's dining services team has exceeded its safety targets and continues to rate high in these audits.
About Chartwells K12
Chartwells provides meals to dining services for school districts, ranging from large public institutions to small charter and private schools, and prides itself on creating customized programs to match the requests of the students, parents and faculty. Chartwells is a culinary-focused organization with a mission to extend its passion, dedication, knowledge and enthusiasm into serving each student delicious and nutritious meals. The company is built on decades of food and education experience and driven by top culinary, nutrition, wellness and sustainability talent. For more information, visit http://www.ChartwellsK12.com/.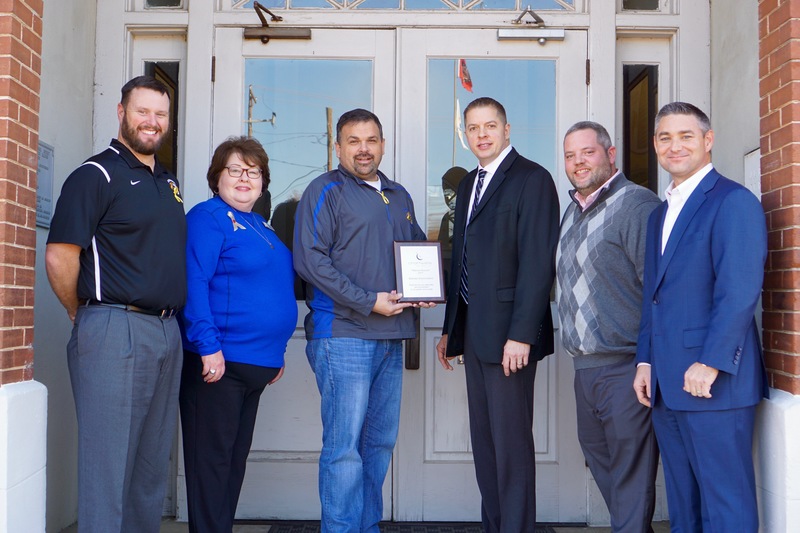 Sheridan School District receives Platinum Award from Chartwells K12 for outstanding foodservice program that brings updated menus and innovative nutrition education to students. (L-R) Sheridan School District: Lincoln Daniels, Deputy Superintendent; Rita Guess, CFO; Jerrod Williams, Superintendent; Chartwells K12: James Paladenic, Regional Vice President; Jason King, Regional Manager; Jason Godwin; Director of Dining Services.