Congratulations to Grant County Spelling Bee Winners Avery Williams and Caroline Mitchell!
Lauren Goins
Monday, January 29, 2018
Congratulations to Avery Williams, fifth grader at SIS, and Caroline Mitchell, seventh grader at SJHS, for placing first and second place, respectively, in the Grant County Spelling Bee held Jan. 29 at the Sheridan High School Auditorium!
Avery will represent Grant County at the Arkansas Spelling Bee in Conway on March 10. Winner of that contest will represent the state at the Scripps Howard National Spelling Bee in Washington, DC.
A total of 46 students from Poyen, East End Intermediate, Sheridan Intermediate, and Sheridan Junior High participated in the Grant County Spelling Bee. Judges for the event were Laura Sanders or Poyen and Roy Wilson of Sheridan. Round keepers were Gwynne Benfield of Sheridan Intermediate and Shannon Archer of Sheridan Junior High. Pronouncer was Susan Ridings, Director of Federal Programs and Testing for the Sheridan School District. Additional thanks also to bee sponsors Terri Williams of Poyen and Autumn Gilbert of East End Intermediate.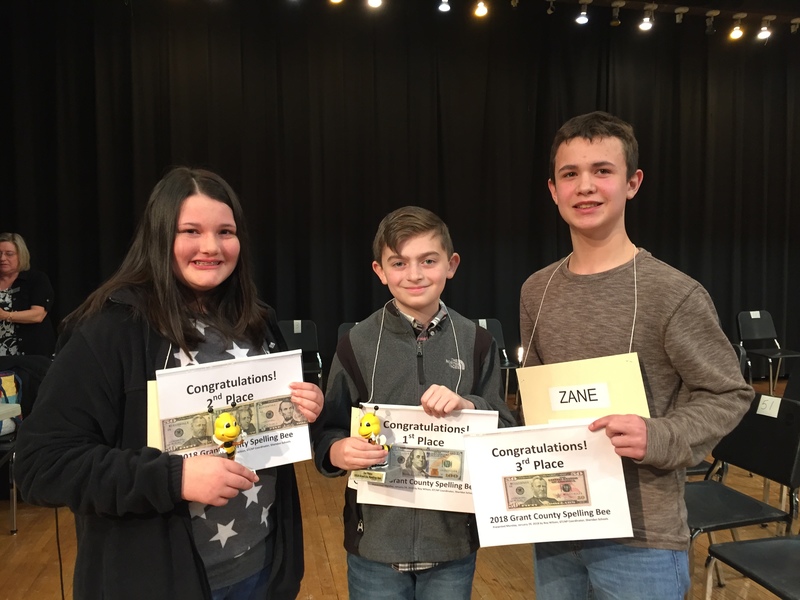 Photo: From left are Caroline Mitchell, 7th grade, SJHS, 2nd place; Avery Williams, 5th grade, SIS, 1st place; and Zane Austin, 8th grade, Poyen, 3rd place.