Sheridan High School Senior Recognized for Outstanding Achievement in Computing
Lauren Goins
Wednesday, April 18, 2018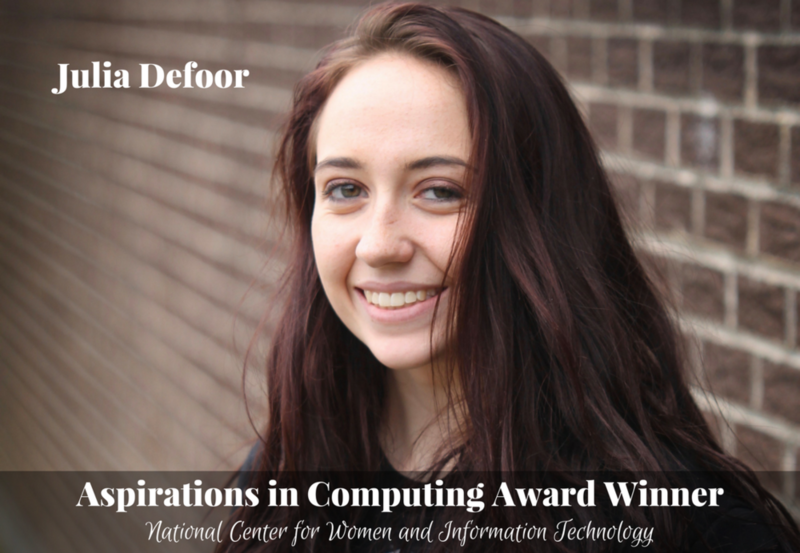 Sheridan High School Senior Recognized for Outstanding Achievement in Computing
Julia Defoor, a programming student at Sheridan High School, was recognized on April 17 for her outstanding abilities in computer science by the National Center for Women and Information Technology (NCWIT).
At a dinner held at the Uark Bowl Event Venue in Fayetteville, Defoor was among 19 students in Arkansas who received the NCWIT Aspirations in Computing Award. The award recognizes outstanding young women at the high-school level for their computing-related achievements and interests.
"I couldn't be more proud of Julia, and I can't think of a more deserving student for this award," said Chris Jones, her computer science teacher. "Julia is a self-driven student who is willing to take risks and is not afraid of setbacks. She embodies everything that we are trying to achieve with computer science at Sheridan High School."
Defoor has many accomplishments when it comes to computing, but she says one of her greatest is the program she and her programming team created for the Girls of Promise Tech for Good competition last year.
"Our team made the top five in the state for the program we created," Defoor said. "We had the chance to meet Governor Asa Hutchinson as well."
Defoor is currently working with a group of classmates on a program for the Sheridan High School counselors. This program will help counselors at future CAPS Conferences, where students register for the next year's classes.
Defoor says Jones and her physics teacher, Hunter Broadaway, were influential in her decision to pursue her abilities in technology and engineering. "They have always challenged me to do my best," Defoor said, "They have motivated me to achieve my goals in programming and engineering."
After high school Defoor plans to study mechanical engineering at the University of Arkansas at Little Rock.
"I have no doubt that Julia will excel in the engineering program at UALR," said Jones. "It has been a privilege to teach her and witness her growth over the last two years. I know she will do amazing things in the future!"