SSD Teachers Attend ADE Community Forum
Lauren Goins
Wednesday, October 12, 2016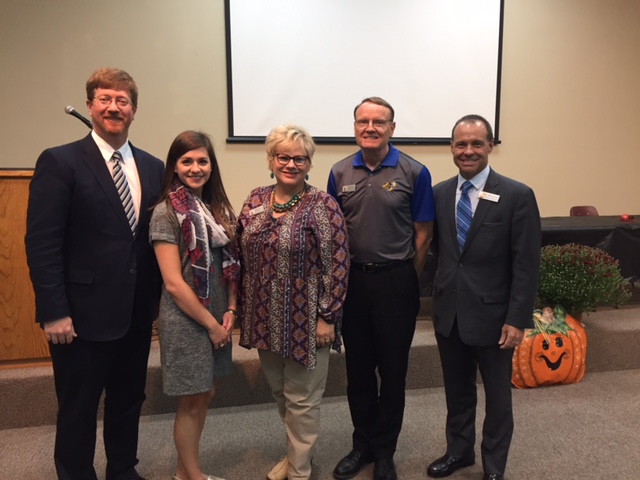 October 10, Sheridan School District teachers Roy Wilson, Sherri DeSoto and Jessica Brown attended the Arkansas Department of Education Community Listening Forum held at Arkansas River Education Service Cooperative in Pine Bluff.
The forum was ADE's sixth of ten community forums scheduled around the state to gather public comments about the required Arkansas plan for the Every Student Succeeds Act, which must be filed with the Federal government by July 2017.
Commissioner of Education Johnny Key presided and shared the department's vision and mission to roughly 60 individuals representing several school districts in Southeast Arkansas. The attendees were asked to respond to three questions: What is best about your school? What are successes within your district? What is needed to provide the best education for Arkansas students?
Roy Wilson, Gifted and Talented/Advanced Placement Coordinator at Sheridan School District, shared the success of Sheridan High School's AP program.
The three Sheridan School District representatives offered several suggestions to ADE, including a recommendation to improve reporting for state-mandated testing. They requested ADE add gifted and talented students as a sub-group to its reporting system alongside categories such as homeless, English learners and special education. This would help schools better track their academic progress.
"We appreciated having the opportunity to participate in one of ADE's community forums," said Wilson. "Several attendees had valuable information and ideas to share. I look forward to seeing how ADE uses this feedback."
Pictured are, from left: ADE Education Commissioner Johnny Key; Sheridan District employees Jessica Brown, K-5 GT Facilitator, East End Campuses; Sherri DeSoto, K-5 GT Facilitator, Sheridan Elementary and Intermediate, and Roy Wilson, GT/AP Coordinator; and Dr. Mark Gotcher, ADE Deputy Commissioner.