Oct. 17-21 is National School Bus Safety Week
Lauren Goins
Thursday, October 13, 2016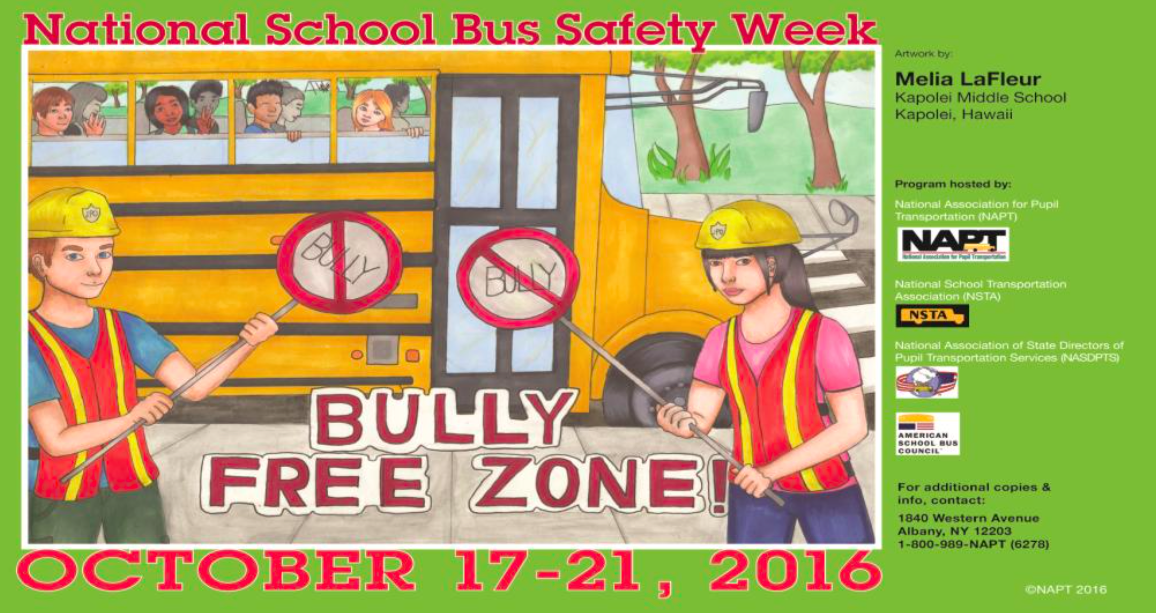 National School Bus Safety Week
The week of Oct. 17 is National School Bus Safety Week, and the Sheridan School District is calling on all residents of the district to exercise constant courtesy and caution when near school buses.
"During School Bus Safety Week, we want to remind students, parents and the community about the importance of school bus safety," said Communications Director Lauren Goins. "We transport nearly 1,900 students on about 45 buses to and from school and school-related activities each day. It is critical that we work together to ensure our students' safety."
According to Transportation Manager Rhonda Harris, one of the most common driver complaints is that other motorists frequently violate the school bus stop law. "Motorists are required to stop for stopped school buses that are displaying flashing red lights and a stop arm," said Harris. "When drivers pass a stopped school bus, they create a very dangerous situation for the children."
The fines, penalties and punishment for anyone found guilty of illegally passing a stopped school bus were increased dramatically by Act 2128 of 2005, also known as Isaac's Law. The legislation passed by the Arkansas General Assembly was named for Isaac Brian, an elementary school student in the Bryant School District who was struck and killed when a driver illegally passed his school bus while students were getting off the bus.
"School Bus Safety Week also is a good time to reiterate bus safety tips to students and parents," said Goins. "Throughout the week we will be sharing these tips on social media and on Wednesday, Oct. 19, we will conduct school bus evacuation drills with our students."
School bus safety tips can be found on the district's website under Bus Information on the Parents tab.