World War I Memorial Tree Planted at Sheridan Elementary
Lauren Goins
Thursday, November 08, 2018
World War I Memorial Tree Planted at Sheridan Elementary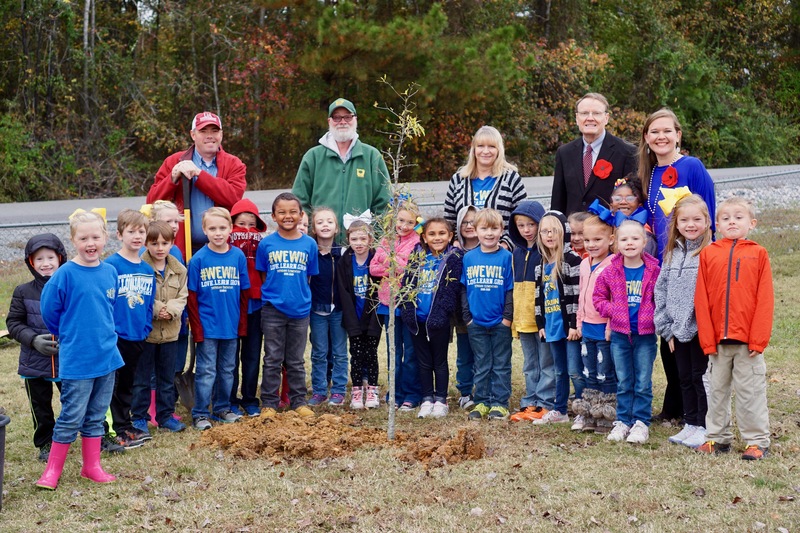 Grant County's newest monument, a willow oak, has been planted at the Sheridan
Elementary School campus on Thursday, Nov. 08, 2018, as part of the Arkansas
Department of Heritage's official program to remember the First World War. In 2016, the
Arkansas World War I Centennial Commemoration Committee was formed to lead the state's
remembrance of the events of 100 years ago. The committee worked to expand the
understanding and appreciation of the significance of World War I through the planting of
commemorative trees in each county.

This dedication occurred at the conclusion of the school's Veterans Day celebration
breakfast honoring local military veterans. The student body of 580 students and 50 staff
members gathered at 8:15 a.m. on the south playground and Lindsey Bohler, principal, led the
proceedings.

Mrs. Mote's 1st grade class led the student body with the Pledge of Allegiance,
followed by the song America, led by music teacher Rachel Clifton. Roy Wilson, GT/AP
Coordinator for the Sheridan Schools, delivered the dedicatory remarks, citing that the oak is
dedicated to the memory of all who fought and died to bring the 4-year war to its conclusion.
The nations agreed to stop fighting at "the 11 th hour, the 11 th day, of the 11 th month"on
November, 1918 after 71,000 Arkansans served in WWI and 2,183 perished.

As the tree was being planted by State Forester James Wagner and Extension Agent Brad
McGinley, Wilson presented Principal Bohler with a small amount of soil to add from the
Meuse-Argonne American Cemetery in France. This was provided, as was the tree, by the
Arkansas Department of Heritage.

Planting memorial trees a century ago happened around the world to commemorate those
lost in World War I. Estimates are that 10 million military personnel and 7 million citizens
perished as a result of the war. A small grove of holly trees survive on the campus of
Henderson State University in Arkadelphia after their dedication a century ago.