2022-2023 PRE-K REGISTRATION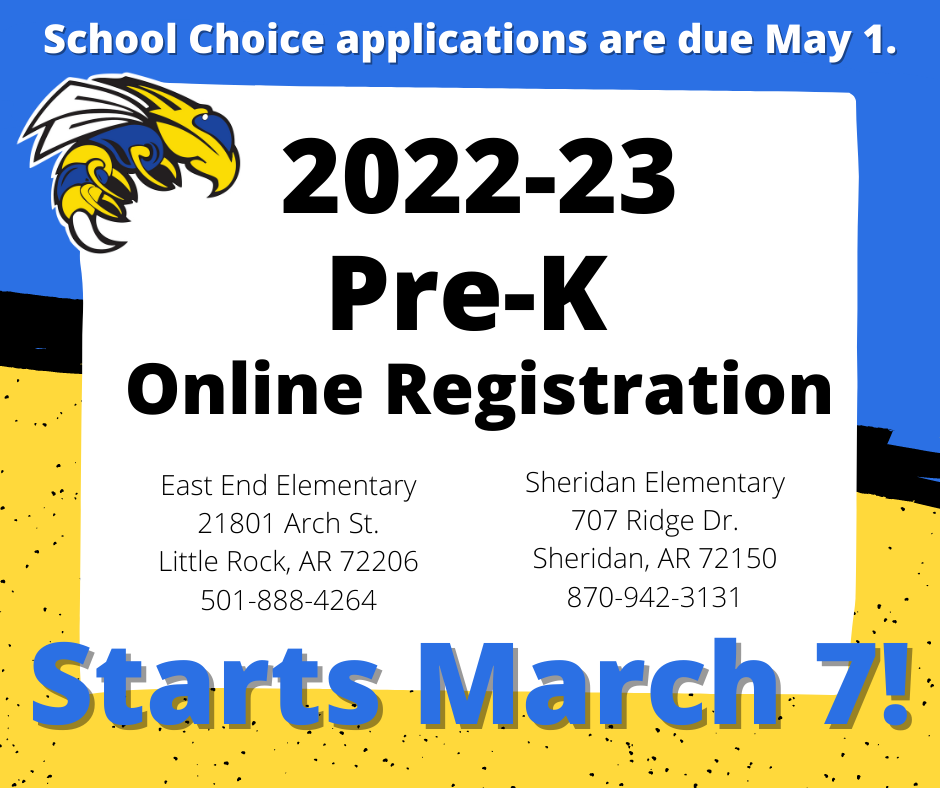 Sheridan Elementary School and East End Elementary will begin taking applications for preschool students for the 2022-2023 school year on March 7, 2022. Click on the registration links below to begin the first step of the registration process (available in English and Español). After you complete this first step of your student's registration online, the record will be processed and reviewed by the school secretary who will contact you with information on how to complete the second step of the Pre-K Registration process, which is to complete the Arkansas Better Chance application.
Your child must be four years old on or before August 1, 2022 to apply for preschool. Space is limited and will be filled on a first come, first qualified basis. These classes are funded through Arkansas Better Chance for School Success and have specific guidelines as to which students qualify for services. This program serves four-year-old children from families with gross income not exceeding 200% of the Federal Poverty Level. These guidelines are mandated by the state government. However, should we have any spots left to be filled after we have accepted all students who are eligible based on income, we will begin accepting students based on a sliding scale where families will be responsible for paying a portion of the tuition.
DOCUMENTS NEEDED FOR REGISTRATION
The registration system will prompt you to upload the following documents. To upload these documents into the registration system, you can simply take a photo of your documents and then upload them into the designated fields. You may also bring copies of these documents to your school. The contact information for both of our elementary schools are shown at the bottom of this page.
Official birth certificate or another form of identification (Child must be four years old on or before Aug. 1, 2022.)

Social Security Card (Parents may request an alternate number assigned by the district.)

Immunization record (CLICK HERE for immunization information.)

Proof of a physical examination within the past 24 months. The district will also accept this documentation within 90 days after the student is initially enrolled. A kindergarten physical form can be downloaded HERE .

Proof of residency: personal property assessment and one of the following: utility bill, rent receipt with current date; lease agreement with current date; dated contract for the purchase of home; or dated contract for closing on the construction of new home.

Income verification (last 30 days of every adult living in the home, tax return, etc.) Note: There is not a specific field on the registration system. Please upload this document in the proof of residency field with that documentation.
ABC PRESCHOOL PROGRAM 2022-2023 INCOME ELIGIBILITY LEVELS
Family size of:
1 - $25,760

2 - $34,840

3 - $43,920

4 - $53,000

5 - $62,080

6 - $71,160

7 - $80,240

8 - $89,320
For each additional person add $4,540 per person.
PRIORITY ENROLLMENT is given to children whose families meet the income requirements listed above. Children in families whose gross income exceeds the amount listed above may still apply and may still be eligible to attend if there are unfilled vacancies. Those families will be required to pay based upon a fee schedule developed by the Arkansas Division of Elementary and Secondary Education.
For more information, contact:
Sheridan Elementary
Principal Lindsey Bohler
707 Ridge Drive
Sheridan, AR 72150
PH: 870-942-3131
East End Elementary
Principal Vickie Easley
21801 Arch Street
Little Rock, AR 72206
PH: 501-888-4264