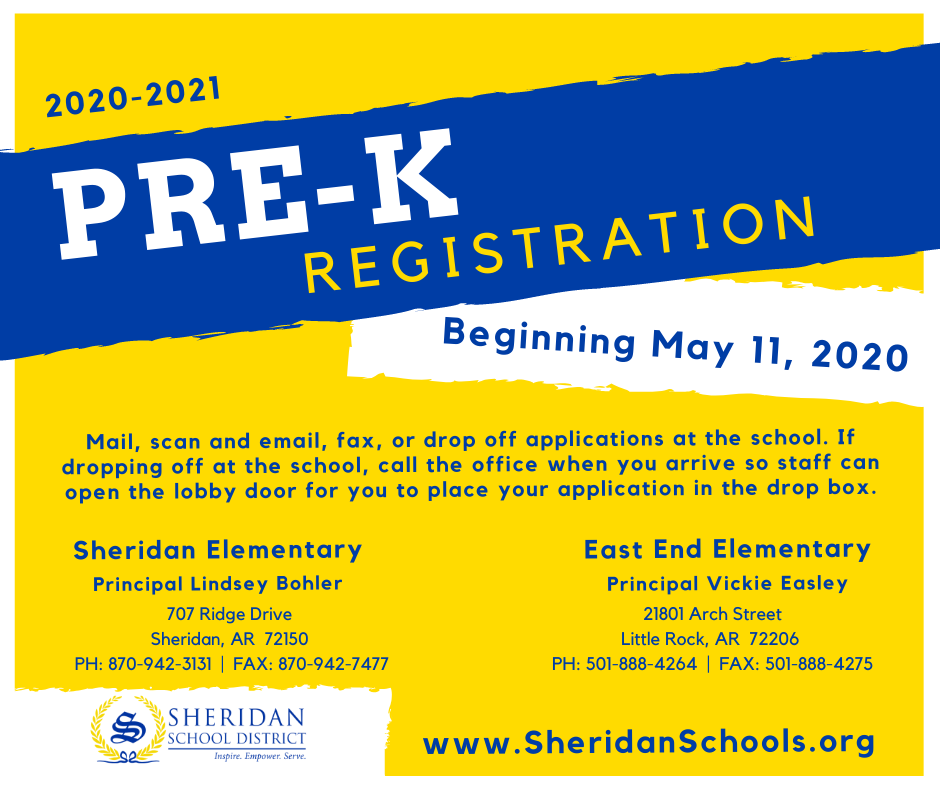 Currently, the Sheridan School District offers four preschool classes to children who qualify and who will turn four on or before August 1. These classes are funded through Arkansas Better Chance for School Success and have specific guidelines as to which students qualify for services. This program serves four-year-old children from families with gross income not exceeding 200% of the Federal Poverty Level. These guidelines are mandated by the state government.
Students are taught by early childhood certified teachers who are assisted by a para-educator. Each class serves a maximum of 20 students. Two classes are in East End Elementary School, and two classes are offered at Sheridan Elementary School.
The core quality components of the Preschool Program include six key areas:
Low student to teacher ratio

Well-qualified & competent staff

Professional development

Developmental Screening and Child Assessment

Meaningful parent and community engagement activities

Proven curricula and learning processes which serve as the basis of ABC funding levels.
Click on the link below for a copy of the Pre-K Packet.
2019-2020 PRE K REGISTRATION PROCESS
WHAT: Pre-K Registration for 2020-2021 Classes
WHERE: Sheridan Elementary and East End Elementary
WHEN: Beginning May 11, 2020
HOW: You can mail, scan and email, fax, or drop off your completed Pre-K Application at the school.
Please only use the drop off option if you are unable to submit your application by mail, email, or fax. The drop box will be located inside the school lobby since the application includes sensitive information. You can drop off the application M-F, from 8 a.m. - 3 p.m. Call the office when you arrive so the staff can let you inside the lobby to drop off the application. Please wear a face covering and maintain a 6-foot distance from others.
For more information, contact:
Sheridan Elementary
Principal Lindsey Bohler
707 Ridge Drive
Sheridan, AR72150
PH: 870-942-3131
FAX: 870-942-747

East End Elementary
Principal Vickie Easley
21801 Arch Street
Little Rock, AR72206
PH: 501-888-4264
FAX: 501-888-4275