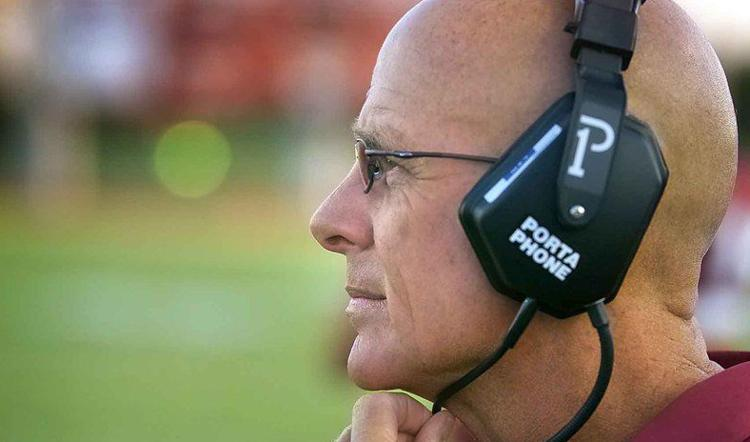 The Sheridan School District is pleased to announce that Larry McBroom has been named the new head football coach for Sheridan High School and the director of football operations for the Sheridan Yellowjackets.
"Coach Larry McBroom's wealth of experience as a head football coach will be a huge benefit for the Sheridan Yellowjackets," said Athletic Director Matt Scarbrough. "You do not have to spend a lot of time with Coach McBroom to know what an impactful coach and mentor he will be for our athletes and coaches."
McBroom has more than 30 years of experience as a head football coach and has won 14 district championships and seven state championships. Also, during his career, he led his team to a run of 65 consecutive conference wins and 45 straight wins, which is currently the state record for high schools in Oklahoma. He has a career average of 10 wins per season and three playoff games per season. He has twice been named the Oklahoma Coach of the Year and was the Region 5 National Coach of the Year in 2002.
McBroom began his career in Ada Oklahoma and went on to coach at Weatherford High School, Mount Pleasant High School, and RL Turner High School in Texas.
After retiring from high school football in Texas, he moved to Sheridan to be near family and has been with the YJ Nation for the past two seasons as a volunteer coach.
"Coach McBroom has displayed a deep commitment to our athletes as well as the Yellowjacket football program as a whole," said Scarbrough.
Coach McBroom is both a well-known and highly respected high school football coach.
One of his references, Rick Jones, former Greenwood head football coach who is now with the University of Missouri football program, said, "Sheridan is hiring the best coach in the state of Arkansas."
Another reference, Barry Odom, the University of Arkansas Defensive Coordinator, said, "I'm so excited for Coach McBroom and the Sheridan community and school. I've known Coach McBroom for over 25 years and have an immeasurable amount of respect for him and his wife, Julie. I was fortunate enough to play for Coach McBroom and work for him as an assistant coach. He is one of the most influential persons in my life. The students and the people associated with the program will all benefit from the leadership that Coach McBroom will provide."
McBroom says he is excited to come out of retirement to be the head football coach of the Yellowjackets. After officially being offered the position, McBroom said, "I feel humbled and blessed to be given the opportunity to continue working with some outstanding coaches and some wonderful young men."