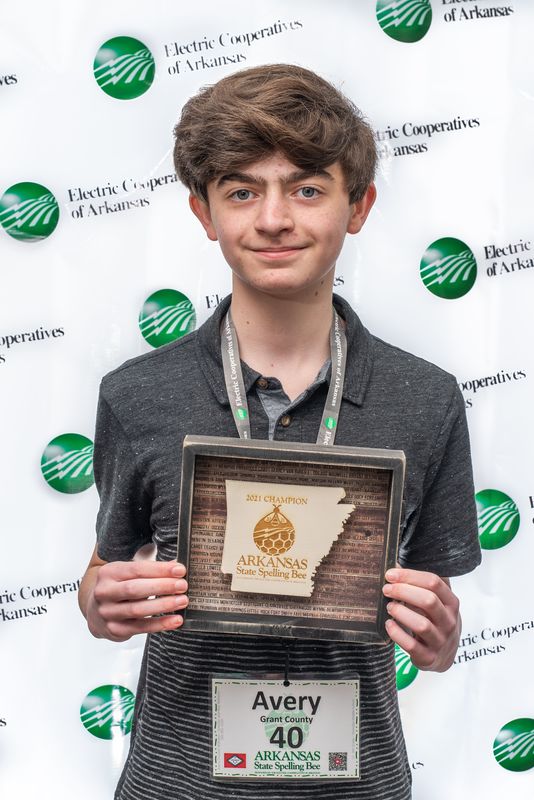 Avery Williams, 13, of Sheridan Middle School, is the Spelling Bee Champion of Arkansas.
The Arkansas State Spelling Bee was held on Saturday, March 13, 2021, at the Arkansas 4-H Center in Little Rock. This was Avery's second time competing at the state level.
Avery is the son of Nick and Summer Williams of Sheridan. His mother, who is the gifted and talented facilitator at the Sheridan School District, said she was happy for her son to compete in a spelling bee and that she also competed in the spelling bee twice when she was young.
Avery took home the first place trophy after correctly spelling "obtenebrate," a Latin word meaning "to darken," defeating last year's State Spelling Bee champion, Thomas Sinclair, 11, of Jessieville Middle School.
After the bee, Avery said he used the etymology and origin of words to help him figure out the words he didn't know. "Using that strategy helped me a lot," he said.
Avery says he is very proud and excited to be able to represent his school, county, and state in the next competition.
And his school district is proud of him, too.
"The Yellowjacket Nation is extremely proud of Avery," said Superintendent Jerrod Williams. "He is an excellent student who consistently works hard to achieve his goals. I am thrilled to see him recognized for this honor, and I can't wait to see what he accomplishes in the future."
Aside from qualifying for the national bee, Avery earned a $575 cash prize, a champion plaque, a 2021 U.S. Mint proof set and a one-year subscription for Britannica Online Premium.