On November 21, 2019, students from grades 3-5 who qualified for the campus level spelling bee competed in the East End Intermediate Library. After an hour and 25 minutes, twelve students had been identified who can move on to the Grant County Spelling Bee in January. Principal Jayme Steinbeck congratulated all the contestants who qualified from classroom competitions as well as those who will represent EEI in January at the county bee. One student will eventually represent Grant County in the State Spelling Bee to be held at the Cabot High School Auditorium on Saturday, Feb. 1, 2020.
The top three EEI contestants received trophies. Finishing in first-place was 5th grader Chauseus Vang, son of Vinnie and Srimala Vang of Hensley. Second place was earned by Quinn Ashley, 4th grader, son of Rodney and Tonya Ashley of Mabelvale. Third place was Drew Estes, 5th grader, son of Joe Estes and Stephanie Hicks of Hensley.
Managers of this year's EEI spelling bee were Angie Walters, K-5 GT Facilitator, and Whitney Nowlin, EEI Librarian. Judges were Sheridan Instructional Specialists Brandi Williams and Jacklin McCoy and District Curriculum Director Alisa Gray. Roy Wilson, GT/AP Coordinator, served as the pronouncer.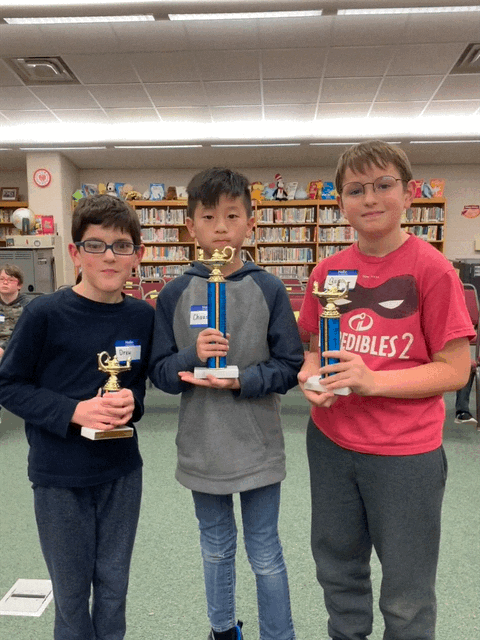 From left: 3rd place, Drew Estes; 1st Chauseus Vang; 2nd Quinn Ashley
Top 12 Finalists