EDIT MAIN
Welcome to the SHS Counselor's Corner!
COLLEGE, CAREER, AND FINANCIAL AID WEBSITES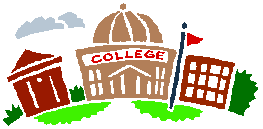 The following is a list of websites that will help you prepare for your future after graduation.
Individualized college search based on cost, size, major, etc.
Explore careers
Financial aid information
Virtual tours of over 1300 college campuses
Career exploration
Information for parents
**Must access with Internet Explorer for tours to work**
College rankings
College search
Practice tests for the SAT and ACT
College and scholarship search
Tips for filling out college applications and writing college essays
Financial Aid Information
Test Prep Tips
FREE practice tests for the ACT, SAT, and the PSAT (with account)
Purchase practice tests for AP exams, ACT, SAT, PSAT, TOEFL, and more.
Online copy of the Arkansas Next Magazine
Great information on everything you need to know for life after high school
Look up SAT, PSAT, and AP information
Register for the ACT
Tips for college planning
College planning checklist
Online YOUniversal Application for Arkansas financial aid, including the Arkansas Academic Challenge Scholarship (Application opens October 1)
Information on Arkansas colleges and universities
Information on cost of college and financial aid
Personalized scholarship search
Also has information about college and career planning
Provides student resources for and links for preparing, choosing, applying, funding, and repaying financial aid. To be eligible for these funds you must fill out the FAFSA form online athttp://www.fafsa.ed.gov
Answers questions about financial aid and what to look for when applying for scholarships
Personalized scholarship search
Search careers by skills needed, jobs available, training needed, etc.
Skills search matches you with careers you may be interested in
Direct link to Occupational Handbook
Take an interest inventory to see what careers you match with!
Research careers that you match with to see what training is needed to develop a plan for the future.
WWW.BLS.GOV: BUREAU OF LABOR STATISTICS WEBSITE
Career Research: Find the Occupational Handbook under "Publications"
Apply for the NCAA clearinghouse
Get information on NCAA requirements