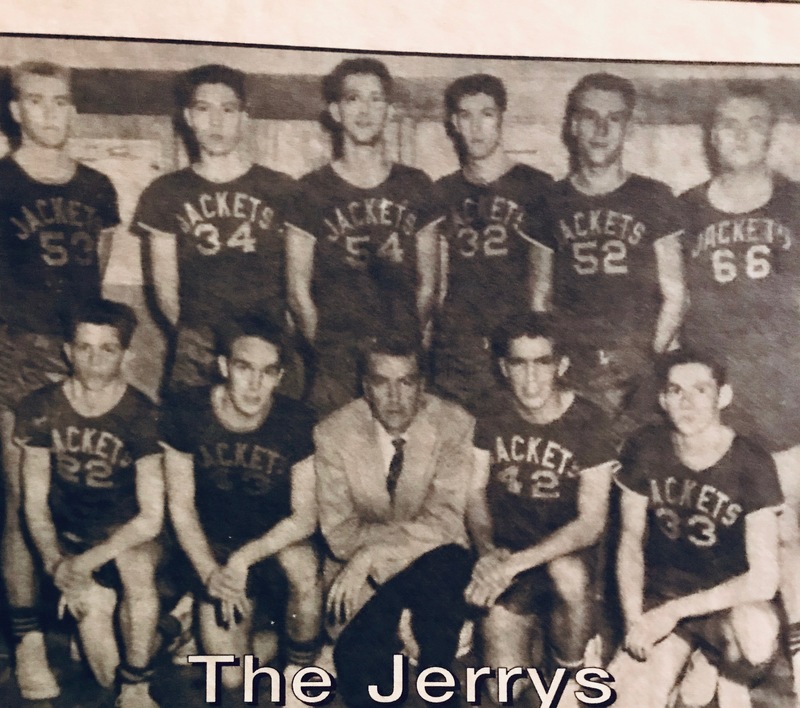 Big news for Yellowjacket Nation. If you like basketball—and who doesn't—Sheridan High School's fantastic new basketball arena is the place to be Tuesday evening beginning at 6 p.m. A Girls game and a Boys game, but this special evening is something every Yellowjacket basketball fan will be thrilled to be a part of. Between games, there will be a special salute and Yellowjacket homecoming welcome as the school's 1958 State Championship team will be honored.
Mark your calendar to be here for this special evening. The 1958 team affectionately dubbed "The Jerrys" will be honored and five members from this celebrated team will be on hand to join in the fun.
In 1958, Coach Jim Zimmerman's powerhouse Yellowjackets won 29 games and lost only three in capturing four tournaments around the state including the state Class A championship. The team set scoring records everywhere they played, setting a new state record of 75 points in each of its four tournament title appearances. And this was long before the three-point play was implemented.
The team was dubbed "The Jerrys" by the state newspaper because four of the starting five players were named Jerry. Those were Jerry Carlton, Jerry Humphries, Jerry Crouse and Jerry Brewer. Other members of the team were Bob Forbess, Harold Anderton, R. L. Beck, Dennis Fitzgerald, Johnny Shepherd, Robert Shepherd, Don Taylor and Elbert Woodard.
Jerry Humphries averaged 18.5 points and Jerry Carlton 23.9. Both signed scholarships with the Arkansas Razorbacks. Humphries also played football with the Razorbacks and Carlton played baseball and went on to earn all conference honors in basketball while leading the nation in several scoring categories.
Carlton, Humphries, Anderton and Brewer all plan to be at this special ceremony Tuesday night as they are honored to help dedicate the new Yellowjacket arena. Bill Lancaster of Sheridan will introduce the players who are present and family members of those players who have passed away. Coach Zimmerman's daughters also plan to attend. Lancaster, who lives in Sheridan, is close friends with Humphries and Carlton.
"I hope people will come out to honor these great players," Lancaster said. "I was 12 years old the year they won it all in the championship game at Marianna. I remember seeing them play. I would walk three miles from my home in the country to the gym to watch them. They were unbelievable and the old gym was overflowing with people every night they played."
Tuesday's special evening begins at 6 pm with the Lady Jacket game. During the intermission between games is when the special ceremony honoring the 1958 champions will be held. All Yellowjacket Nation supporters are urged to come out in strong support for this special evening in Sheridan High School sports.